Contribution
(Masterpieces of Fiction, Detective and Mystery Edition)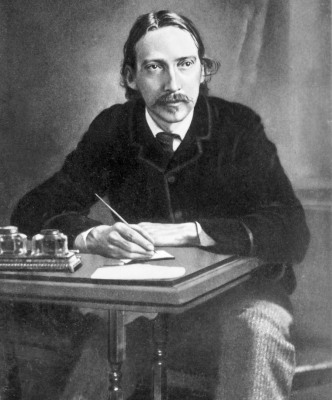 Robert Louis Stevenson must be seen as an unknowing progenitor of the mystery and detective genre. He was essentially a Romantic writer attempting to be taken seriously in a mainstream literary world caught up in the values of realism and naturalism. As a Romantic writer, he strongly affirmed the preeminent right of incident to capture the reader's attention. He countered Jane Austen's polite cup of tea with Dr. Jekyll's fantastic potion; he left the discreet parsonage to others, while he explored the mysteries of Treasure Island; he eschewed the chronicling of petty domestic strife and struck out instead to write about, not the uneventful daily life of ordinary men, but rather their extraordinary daydreams, hopes, and fears.
Stevenson also insisted on the importance of setting to a narrative. As he writes in "A Gossip on Romance," "Certain dank gardens cry aloud for a murder." The creation of atmosphere has been an important element in mystery fiction since Edgar Allan Poe first had his amateur French sleuth Monsieur Dupin investigate the murders in the Rue Morgue. The rugged Spanish Sierras of Stevenson's "Olalla" are, in their own way, as unforgettable as the Baker Street lodgings of Sherlock Holmes and Dr. Watson.
Stevenson also had a profound interest in psychology. His emphasis on the criminal's motivation, rather than on his identity, clearly presages the method of much modern, post-Freudian, mystery-suspense fiction. In Stevenson's "Markheim," the reader witnesses a murder early in the story and has no doubt about the identity of the murderer; the interest lies in the murderer's motivation, in his emotional and intellectual response to his crime. In terms of plotting, setting, and characterization, Stevenson is a master of all the elements that became so important to the development of the mystery and detective genre.
Other Literary Forms
(Literary Essentials: Short Fiction Masterpieces)
Despite poor health, Robert Louis Stevenson was a prolific writer, not only of juvenile fiction but also of poetry, plays, and essays. He is best known for adventure romances such as Treasure Island (1881-1882, serial; 1883, book), Kidnapped (1886), and the horror-suspense novel The Strange Case of Dr. Jekyll and Mr. Hyde (1886), works that appeal principally to youthful readers. A habitual voyager, Stevenson also wrote travelogues and sketches recounting his personal experiences. His children's poems, published in A Child's Garden of Verses (1885), remain perennial favorites, as do several of his beautiful family prayers.
Achievements
(Literary Essentials: Short Fiction Masterpieces)
For clarity and suspense, Robert Louis Stevenson is a rarely equaled raconteur. He reveals his mastery of narrative in his economical presentation of incident and atmosphere. Yet, despite his sparse, concise style, many of his tales are notable for dealing with complex moral ambiguities and their diagnoses. Although influenced by a host of romantic writers, including Charles Lamb, William Hazlitt, William Wordsworth, and Nathaniel Hawthorne, Stevenson's theories of prose fiction were most directly provoked by Henry James's The Art of Fiction (1884). Stevenson placed himself in literary opposition to James and the "statics of character," favoring instead an action-fiction whose clear antecedents are allegory, fable, and romance. His tales of adventure and intrigue, outdoor life and old-time romance, avidly read by children and young adults, have had a continuous and incalculable influence since their first publication in the 1880's.
Other literary forms
(Survey of Novels and Novellas)
In addition to his novels, Robert Louis Stevenson published a large number of essays, poems, and short stories, most of which have been collected under various titles. The best edition of Stevenson's works is the South Seas Edition (32 volumes) published by Scribner's in 1925.
Achievements
(Survey of Novels and Novellas)
A man thoroughly devoted to his art, Robert Louis Stevenson was highly regarded during his lifetime as a writer of Romantic fiction. Indeed, few, if any, have surpassed him in that genre. Combining a strong...
(The entire section is 2,383 words.)