Robert A. Heinlein Biography
Robert A. Heinlein, along with Arthur C. Clarke and Isaac Asimov, is part of the "holy trinity" of science fiction writing. Heinlein is particularly noted for his skill at mixing hard science with fictional elements. He also uses the genre to explore a variety of socio-political issues, though many critics disagree as to exactly what his beliefs and politics were. Heinlein's early works bear the influence of his socialist beginnings, yet others such as his novel Starship Troopers can be read as right-wing and even fascistic propaganda. And countering both of those positions are his countless works that explore radically liberal ideas of gender, race, and sexuality. Part of what made Heinlein so unique was the way he eschewed categorization and defied expectations.
Facts and Trivia
Heinlein's forward-thinking novel Stranger in a Strange Land proved to have major social influence beyond the world of science fiction. The book introduced the notion of polyamorous relationships—that is to say, romantic relationships among more than two people.
As a young man, Heinlein became heavily involved in Upton Sinclair's leftist social concerns and unsuccessful campaigns for elected office. At one point, Heinlein himself tried to run for office but was defeated.
Among Heinlein's more unusual contributions to the world is the water bed, an idea he came up with during one of his many hospitalizations.
Grumbles from the Grave is a collection of Heinlein's personal writing that was published posthumously by his widow.
Heinlein won an astonishing seven Hugo Awards. Of those, three were awarded retroactively for key works from his lengthy career.
Biography
(Masterpieces of American Literature)
Robert A. Heinlein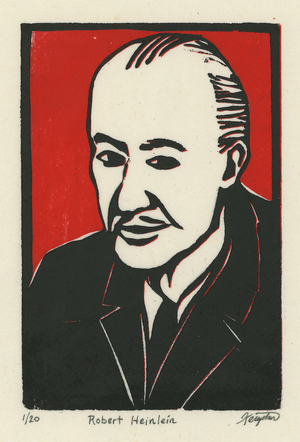 Robert Anson Heinlein was born in Butler, Missouri, on July 7, 1907, the son of Rex Ivar and Bam Lyle Heinlein. He was the third of seven children. After graduating from Kansas City Central High School in 1924, Heinlein enrolled at a branch campus of the University of Missouri near his home. His dream, however, was to follow his older brother Rex into the U.S. Naval Academy at Annapolis. Having solicited some fifty letters of recommendation in his behalf, Heinlein won an appointment to the academy in 1925. Commissioned with the Navy class of 1929, Lieutenant Robert Heinlein would serve only five years (as gunnery officer on several ships, including the first modern aircraft carrier, the USS Lexington) before a diagnosis of tuberculosis gave him a mandatory medical discharge in 1934.
For the next five years, Heinlein would try many occupations before becoming a writer. Pursuing graduate studies in physics at the University of California, Los Angeles, he also dabbled in architecture, mining, real estate, and state politics in Colorado and California. None of these ventures paid off, and Heinlein found himself in 1939, at the age of thirty-two, broke, with a mortgage, and virtually unemployable. A short-story contest in the science-fiction magazine Thrilling Wonder Stories offered fifty dollars. Tempted by the prize, Heinlein wrote his first story, "Life Line," and sold it to the top science fiction magazine, Astounding Science Fiction, for twenty dollars more than the contest prize.
The editor of Astounding Science Fiction, the influential John Campbell, liked the story and wanted more. Thus, quite by accident, Heinlein became a writer. By 1941, he was supplying one-fifth of the contents of the magazine—he produced so much that Campbell insisted on publishing half of Heinlein's stories under a pseudonym, Anson MacDonald. Heinlein was also the most popular writer in the magazine: He tied with "MacDonald" (that is, with himself) for first place in the readers' polls.
When Japan bombed Pearl Harbor and the United States entered World War II, Heinlein immediately reported to the Navy for wartime service. He was assigned to the U.S. Naval Air Experimental Station at Mustin Field in Philadelphia. Two other science-fiction writers...
(The entire section is 2,656 words.)