Biography
(History of the World: The 17th and 18th Centuries)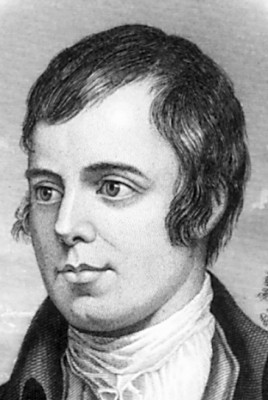 Article abstract: Burns, writing his poetry and songs at the culmination of Scottish cultural tradition, made a major contribution to preserving Scottish culture, especially the folk song; his universal human appeal made him an internationally recognized as well as an intensely national poet.
Early Life
Legend has it that there was a severe storm on the night of Robert Burns's birth. Certainly the poet himself encouraged the legend, and took it as emblematic of his later vicissitudes in life. Although his father, William Burnes (as he spelled it), was a man of character and intelligence, even writing a pamphlet of theological instruction in the form of a dialogue between father and son, he was not a successful farmer. The family went through a series of moves and endured humiliating poverty and debt.
Even in such straitened circumstances, Burns's education was not completely neglected. Statutes for universal education had been initiated by John Knox and the Reformation, so that all could read the Scriptures, but the actual schooling provided usually fell woefully short of the ideal. Often families made their own arrangements, giving the teacher board and a small stipend. William Burnes, with several other neighbors, employed William Murdoch, who was to remain for two and a half years. Burns had three brothers and three sisters, of whom Gilbert Burns (1769-1827) was closest to the poet. Later, Burns spent three weeks with Murdoch, polishing his English and learning enough French to continue reading and studying the language, and he was always an avid reader. Among his favorite poets were Alexander Pope and William Shenstone. Clearly Burns was far from being the "Heaven-taught ploughman" that his first critics perceived, a legend which he himself encouraged.
The Scottish attitude toward literacy also meant that Burns's potential readers were not entirely limited to an educated elite. Broadsides, chap-books, and collections of songs were among the popular entertainment, and there was a flourishing oral tradition. An "old maid" of his mother (actually a widowed aunt who occasionally lived with them) fired his imagination with songs and legends. Early in his life, Burns began to write verses. In 1774, when he was fifteen, he wrote "Handsome Nell" for Nelly Kirkpatrick, whom he courted at harvest time, and, as he said, "Thus with me began Love and Poesy." From that time, Burns thought of himself as a poet.
Life's Work
A poet, however, must usually find another means of earning a living. In the summer of 1775, Burns's attempt to learn surveying and mathematics was not successful. In 1777, the family moved again, to Lochlie farm in Tarbolton parish. There Burns enjoyed the society of the Tarbolton Bachelors' Club, which he had helped to organize; he probably wrote the group's constitution. In the winter of 1781-1782, he and a partner settled in Irvine in order to learn flax dressing, a venture which proved disastrous. Penniless, Burns returned to the farm; here he began his first commonplace book, containing poems and remarks regarding his poetic development. After his father's death, in February, 1784, Burns and his brother Gilbert rented Mossgviel farm from Gavin Hamilton, a young lawyer who was sympathetic to Burns's work. Shortly thereafter, Burns acquired the poems of Robert Fergusson, a promising Edinburgh poet whose poems greatly influenced Burns.
Burns and Fergusson were both indebted to the Scottish literary tradition, which went back to William Dunbar, Robert Henryson, and James I of Scotland, author of "The Kingis Quair" (1423?). Before the departure of the court of James I of England and James VI of Scotland for London in 1603, Scots had flourished as a literary language. Scots and the dialect of Northern England (Anglian) were virtually identical; the London dialect of Geoffrey Chaucer had not yet developed into standard English....
(The entire section is 3,382 words.)