Overview
(Shakespeare for Students)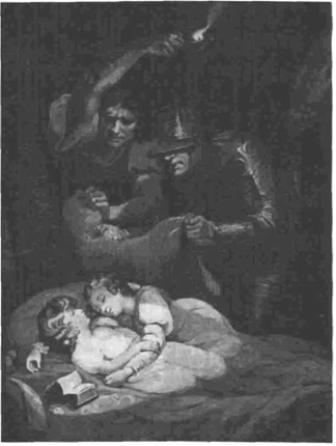 E. M. W. Tillyard
[In this excerpt, Tillyard refers to Richard III as the final play in a tetralogy which includes Henry VI, parts one, two, and three. Further, Tillyard explains that divine retribution and the deliverance of England through God's grace is the theme of Richard III, and that fighting against Richard's "vast" evil is the cause that finally unites England through Richmond.]
... I [have] put the theme of Richard III partly in terms of God's intentions. As it is usual to put it in terms of Richard's character, I had better expand my thesis. But it is a delicate matter. People are so fond of Shakespeare that they are desperately anxious to have him of their own way of thinking. A reviewer in the New Statesman was greatly upset when I quoted a passage in Measure for Measure as evidence that Shakespeare was familiar with the doctrine of the Atonement: he at once assumed I meant that Shakespeare believed the doctrine personally. And if one were to say that in Richard III Shakespeare pictures England restored to order through God's grace, one gravely risks being lauded or execrated for attributing to Shakespeare personally the full doctrine of prevenient Grace according to Calvin. When therefore I say that Richard III is a very religious play, I want to be understood as speaking of the play and not of Shakespeare. For the purposes of the tetralogy [Shakespeare's four plays: 1 Henry VI, 2 Henry VI, 3 Henry VI, and Richard III] and most obviously for this play Shakespeare accepted the prevalent belief that God had guided England into her haven of Tudor prosperity. And he had accepted it with his whole heart, as later he did not accept the supposed siding of God with the English against the French he so loudly proclaimed in Henry V. There is no atom of doubt in Richmond's prayer before he falls asleep in his tent at Bosworth. He is utterly God's minister, as he claims to be:
O Thou, whose captain I account myself,
Look on my forces with a gracious eye;
Put in their hands thy bruising irons of wrath,
That they may crush down with a heavy fall
The usurping helmets of our adversaries.
Make us thy ministers of chastisement,
That we may praise thee in the victory.
To thee I do commend my watchful soul,
Ere I let fall the windows of mine eyes.
Sleeping and waking, O, defend me still.
[V.iii. 108-17]
In the same spirit Shakespeare drops hints of a divine purpose in the mass of vengeance that forms the substance of the play, of a direction in the seemingly endless concatenation of crime and punishment. In 3 Henry VI, York at Wakefield, Young Clifford at Towton, Warwick at Barnet, and Prince Edward at Tewkesbury die defiantly without remorse. In Richard III the great men die acknowledging their guilt and thinking of others. Clarence, before his murderers enter, says:
O God, if my deep prayers cannot appease thee,
But thou wilt be aveng'd on my misdeeds,
Yet execute thy wrath in me alone:
O spare my guiltless wife and my poor children
[I.iv. 69-72]
Edward IV, near his death, repents his having signed a warrant for Clarence's death and while blaming others for not having restrained him blames himself the most:
But for my brother not a man would speak,
Nor I, ungracious, speak unto myself
For him, poor soul. The proudest of you all
Have been beholding to him in his life;
Yet none of you would once plead for his life.
O God, I fear thy justice will take hold
On me and you and mine and yours for this.
[II.i. 126-32]
The Duchess of York, who once rejoiced when her family prospered, now in humility acknowledges the futility of ambitious strife.
Accursed and unquiet wrangling days,
How many of you have mine eyes beheld.
My husband lost his life to get the crown,
And often up and down my sons were toss'd,
For me to joy and weep their gain and loss.
And, being seated and domestic broils
Clean overblown, themselves, the conquerors,
Make war upon themselves: blood against blood,
Self against self. O, preposterous
And frantic outrage, end thy damned spleen.
[II.iv. 55-64]
All this...
(The entire section is 50,872 words.)