Returning to Earth
(Literary Masterpieces, Volume 3)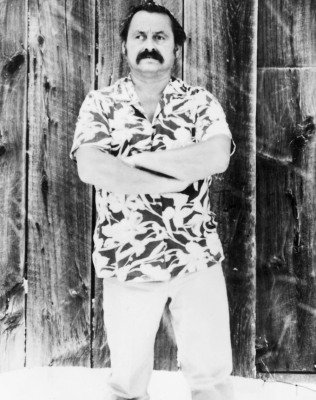 In Jim Harrison's Returning to Earth, Donald is very sick at an advanced stage of amyotrophic lateral sclerosis (ALS), commonly called Lou Gehrig's disease. He worked as a bricklayer for many years and was proud of his strength, but his body is giving out. His wife Cynthia must purée all of his food because swallowing has become very difficult. Sometimes his speech is almost impossible to understand. Worst of all is the excruciating pain of muscle seizures. As he describes it: "Back in high school when I ran track or played football you were likely to get a cramp. With this disease at times you are a cramp, your whole body seizes up so that even your mind seems inside a cramp. You're all cramp, pure and simple."
ALS is a cruel disease because of the pain. Cynthia has learned that there is no known cure and that the average survival time is only three years. Donald was embarrassed to go to a doctor when symptoms of muscle weakness first appeared, so he probably had the disease already for some time before it was diagnosed. Although he is only forty-five years old, he sees clearly that death is not far away. Donald has started dictating the story of his Native American and Finnish ancestry to his wife in order to preserve a family history for their two children and other relatives.
Donald's father, grandfather, and great-grandfather were all named Clarence. They mostly worked as laborers in mining, lumbering, and farming in northern Michigan and Minnesota. The first Clarence had lived with a Native American woman, which made their descendants part American Indian. Donald's mother was three-quarters Native American, so Donald inherited the characteristic appearance of dark skin, a large nose, and high cheek bones. Donald has a full-blooded Native American cousin named Flower, from whom he has heard some of the Native American legends about life and death, bears, ravens, natural medicines, and various tribal customs. Before Donald became ill, he had gone on a traditional vision quest. For three days, he lived in the woods without food, water, or shelter. He is reluctant to talk about his solitary experience, but he did say that he had a premonition of an early death when his parents (who were deceased) said to him in a vision, "Don't be afraid to come home, son."
Donald's father, Clarence, worked for a wealthy landowner named Mr. Burkett, who had a teenage daughter named Cynthia. Mr. Burkett liked young girls and once paid $100 to Cynthia's girlfriend to see her naked. Cynthia got so angry at her father that she hit him with a club. Donald met Cynthia when he came to work with his father to help dig the foundation for a building. Cynthia offered a glass of lemonade to Donald, which was the beginning of their romance. Mr. Burkett had another employee, a Mexican man with a twelve-year-old daughter named Vera. In a drunken fit, Mr. Burkett raped the young girl. She went back to Mexico with her father and later gave birth to a son. After this traumatic incident, Cynthia could not stand staying at home any longer, so she and Donald ran off and got married.
The story of Mr. Burkett is not finished yet. Donald tells about Cynthia's brother, David, who years later talked his alcoholic father into going to Mexico to look up Vera and her son. Instead of a reconciliation, a fight develops; Vera's son slices off Mr. Burkett's two hands with a machete and then sets him and David adrift in the Gulf of Mexico in a rowboat. David eventually dumps his father's body into the water. Donald's dramatic narrative skips quickly from one subject to another, so the story of Mr. Burkett is followed by memories of a fishing trip he took with his daughter, Clare. Donald tells stories as they occur to him, with no particular chronological connection. The fishing trip reminds him about a nature documentary that he saw on television, which leads into a sad story about a young fellow who was...
(The entire section is 1,804 words.)