Discussion Topics
(Masterpieces of American Literature)
Ralph Waldo Emerson often employs powerful imagery to support the ideas expressed in his prose. Cite particular examples of this trait in Nature.
What, according to Emerson, are the uses of nature? Is "using" nature an unfortunate term? Would another expression convey his meaning better?
Some students of Emerson's "The American Scholar" have seen this address as an attempt to define his own vocation. Why in 1837 would he have needed to do such a thing?
How does the style of "Self-Reliance" enforce its theme?
What is the point of Emerson's reformulation of religious concepts? For instance, what is the effect of his employment of a term like "Oversoul" or "Power" when he appears to be referring to God?
What evidence can you find in Emerson's writing that he acknowledged the existence and force of evil?
Other literary forms
(Poets and Poetry in America)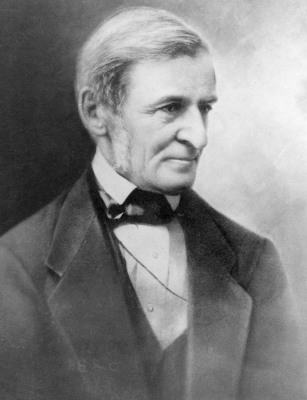 Ralph Waldo Emerson's The Journals of Ralph Waldo Emerson (1909-1914), written over a period of fifty-five years (1820-1875), have been edited in ten volumes by E. W. Emerson and W. E. Forbes. Ralph L. Rusk edited The Letters of Ralph Waldo Emerson in six volumes (1939). Emerson was a noted lecturer in his day, although many of his addresses and speeches were not collected until after his death. These appear in three posthumous volumes—Lectures and Biographical Sketches (1884), Miscellanies (1884), and Natural History of Intellect (1893)—which were published as part of a centenary edition (1903-1904). A volume of Emerson's Uncollected Writings: Essays, Addresses, Poems, Reviews, and Letters was published in 1912. A sixteen-volume edition of journals and miscellaneous papers was published between 1960 and 1982.
Achievements
(Poets and Poetry in America)
Although Ralph Waldo Emerson's poetry was but a small part of his overall literary output, he thought of himself as very much a poet—even in his essays and lectures. He began writing poetry early in childhood and, at the age of nine, composed some verses on the Sabbath. At Harvard, he was elected class poet and was asked to write the annual Phi Beta Kappa poem in 1834. This interest in poetry continued throughout his long career.
During his lifetime, he published two small volumes of poetry, Poems and May-Day and Other Pieces, which were later collected in one volume for the centenary edition of his works. Altogether, the centenary volume contains some 170 poems, of which perhaps only several dozen are noteworthy.
Although Emerson produced a comparatively small amount of poetry and an even smaller number of first-rate poems, he stands as a major influence on the subsequent course of American poetry. As scholar, critic, and poet, Emerson was the first to define the distinctive qualities of American verse. His broad and exalted concept of the poet—as prophet, oracle, visionary, and seer—was shaped by his Romantic idealism. "I am more of a poet than anything else," he once wrote, although as much of his poetry is found in his journals and essays as in the poems themselves. In An Oration Delivered Before the Phi Beta Kappa Society, Cambridge (1837; better known as The American Scholar), he called for a distinctive American poetry, and in his essay "The Poet," he provided the theoretical framework for American poetics. Scornful of imitation, he demanded freshness and originality from his verse, even though he did not always achieve in practice what he sought in theory. Rejecting the derivative verse of the Hartford wits and the sentimental versifiers of his day, he sought an original style and flavor for an American poetry close to the native grain. The form of his poetry was, as F. I. Carpenter argues (Emerson Handbook, 1953), the logical result of his insistence on self-reliance, while its content was shaped by his Romantic idealism. Thus his cumulative influence on American poetry is greater than his verse alone might imply.
Expression mattered more than form in poetry, according to Emerson. If he was not the completely inspirational poet called for in his...
(The entire section is 2,804 words.)