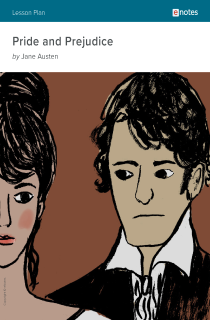 Pride and Prejudice eNotes Lesson Plan
by eNotes
Release Date: February 18, 2020
Subjects: Language Arts and Literature
Age Levels: Grade 10, Grade 11, Grade 12, and Grade 9
Pages: 166
Purchase a Subscription
Excerpt
Learning Objectives: 
By the end of this unit, students should be able to
describe what makes Elizabeth Bennet an appealing and interesting heroine, particularly given the time period of the novel;
explain why the first line of the novel is among the most famous in English literature;
analyze the way the social institution of marriage is both clearly explained and treated with gentle irony;
identify the way social class and economic status affects the central characters;
find examples in the text of how Austen illustrates the social hypocrisy of the era;
explore the implications of gender in nineteenth-century society and how gender affects Elizabeth's struggle between constructions of femininity and independent selfhood;
describe what makes the novel a timeless classic;
explain how the novel, through various characters, presents embodiments of "pride" and of "prejudice."
Introductory Lecture:
One of the most famous first lines in English literature is found in Pride and Prejudice, published in 1813: "It is a truth universally acknowledged, that a single man in possession of a good fortune, must be in want of a wife." The sentence immediately introduces the theme of marriage, a topic that is explored in the novel by following the character of Elizabeth Bennet, the second oldest of five daughters in a family of landed gentry, and her relationship with a man of great wealth and property named Mr. Darcy. The first line also establishes the wry humor and irony which Jane Austen employs throughout the book; as the reader quickly realizes, the novel is not so much about the fact that a "single man" wants a wife—but that a single woman, particularly one without a fortune, is in dire need of a husband. The marriage theme is also explored through the characters of the Bennet sisters and Elizabeth's friend, Charlotte Lucas.
Jane Austen once described her work as existing within "that little bit (two inches wide) of ivory, in which I work with so fine a brush as produces little effect after much labour." However, in focusing so narrowly on the life and trials of the Bennet family, its daughters, and their suitors, Austen creates in Pride and Prejudice a surprisingly incisive and revealing portrait of how social ritual, class, and gender were woven into the fabric of life in eighteenth-century England. That Austen's original title for the book was First Impressions provides fodder for discussion; there are clear episodes in the plot that illustrate how exterior markers such as appearance or fortune don't always provide an accurate basis for making assumptions or judging others too quickly. The eventual title, Pride and Prejudice, perhaps encapsulates this theme more precisely.
The novel also depicts the reality that women—particularly if they were unfortunate enough to have their family estate entailed away as in the case of the Bennet daughters—were rarely in positions of power or authority. In creating the witty, intelligent, and assertive character of Elizabeth Bennet, Austen found a way to challenge the constraints of gender and the paradoxical rules that governed social institutions like marriage.
Few novels from any time period have the long-lasting cultural relevance of Pride and Prejudice. It has been adapted into well-known television productions, such as the BBC miniseries starring Jennifer Ehle and Colin Firth; a 2005 film version earned its star, Keira Knightly, an Oscar nomination. It also has inspired many other works with titles ranging from Pride and Prejudice and Zombies (2005) to Death Comes to Pemberley (2011), a murder mystery by well-known author P.D. James.
Jane Austen was born in 1775, the seventh child of the rector of Steventon parish located near Basingstoke, England. She remained at Steventon with her family until her father retired in 1801 and they moved to Bath. From the time she was a child, she wrote stories. Four of her novels were published during her lifetime, including Sense and Sensibility (1811), Pride and Prejudice (1813), Mansfield Park (1814), and Emma (1816). Two other novels, Northanger Abbey and Persuasion, were published after her death in 1817.
About
Our eNotes Comprehensive Lesson Plans have been written, tested, and approved by active classroom teachers. Each plan takes students through a text section by section, glossing important vocabulary and encouraging active reading. Each is designed to bring students to a greater understanding of the language, plot, characters, and themes of the text. The main components of each plan are the following:
An in-depth introductory lecture
Discussion questions
Vocabulary lists
Section-by-section comprehension questions
A multiple-choice test
Essay questions
Each plan is divided into a teacher and a student edition. The teacher edition provides complete answer keys for all sections, including example answers for the essay questions.