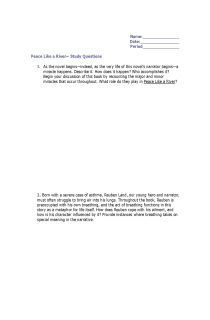 Preview
Peace Like a River Discussion Questions
by cbetances
Released February 12, 2019
subjects
0 pages
Purchase a Subscription
Grade Levels
Excerpt
Peace Like a River~ Study Questions
As the novel begins—indeed, as the very life of this novel's narrator begins—a miracle happens. Describe it. How does it happen? Who accomplishes it? Begin your discussion of this book by recounting the major and minor miracles that occur throughout. What role do they play in Peace Like a River?
Born with a severe case of asthma, Reuben Land, our young hero and narrator, must often struggle to bring air into his lungs. Throughout the book, Reuben is preoccupied with his own breathing, and the act of breathing functions in this story as a metaphor for life itself. How does Reuben cope with his ailment, and how is his character influenced by it? Provide instances where breathing takes on special meaning in the narrative.
Consider the details of the double homicide committed by Davy, Reuben's older brother. Does Reuben see Davy as a murderer, or as one who acted in selfdefense? Does he want Davy brought to justice, or does he think justice has already been served? What about the other main characters: how do they feel? And what about you, the reader? How was your impression of Davy—and of this novel—influenced by his actions? Discuss how the novel explores the idea of loyalty.
Peace Like a River is set mainly in rural Minnesota and the Badlands of North Dakota during the early 1960s. Like early American pioneers, or perhaps like mythic heroes, the Lands set out to rescue one of their own amidst the beauty and cruelty of the natural world. How does the Land family contend with this raw, uncivilized, and sometimes brutal landscape? Identify events or circumstances in which the novel's setting contributes to its elemental or mythic quality.
Swede, Reuben's imaginative, prolific, and precocious younger sister, creates an epic poem about a cowboy named Sunny Sundown. Talk about Sunny's ongoing saga as an ironic commentary on Reuben's larger narrative. What are the parallels?
Besides the Sunny Sundown text, several other outlaw tales, literary allusions, biblical legends, and historical asides are offered—by Swede or by Reuben himself. Identify a few of these stories-within-the-story, explaining how each enriches or influences the main narrative.
Discuss the character of Jeremiah Land, Reuben's father—and the center of his moral compass. What are Jeremiah's strengths, as a person and a parent? Does he have any weaknesses? Why did his wife leave him, all those years ago? And why does he "heal" the grotesque employer who fires him (p. 80)? Explain how the novel's dual themes of familial love and ardent faith are met in this character.
Both during Davy's trial and after his escape from prison, we encounter a variety of public viewpoints on what Reuben's brother has done. Such viewpoints, usually presented as personal letters or newspaper editorials, are always steadfast yet often contradictory. What does Reuben seem to realize about the so-called "court of public opinion," in light of these viewpoints?
Prayer is described in many ways, and on many occasions, in Peace Like a River. Reading this book, did you discover anything about the activity of, reasons for, or consequences of prayer? What larger points—about religion and human nature, say—might the author be making with his varied depictions of people at prayer? For instance, when remembering a prayer he said that included blessings for even his enemies, Reuben comments thus regarding Jape Waltzer: "Later I would wish I'd spent more time on him particularly" (p. 285). Why does Reuben feel this way? What power does he recognize in his own prayers? Discuss the impact prayer has on Reuben, and how it transforms him.
Recovering from a near-fatal asthmatic collapse, Reuben muses: "The infirm wait always, and know it" (p. 290). Given Reuben's physical condition, and given what we know about his ancestry and the story at hand, what is Reuben "waiting" for? How is his waiting resolved? Can this analogy be applied to any of the other characters?
About
Discussion questions for the novel.