Biography
(Literary Essentials: Great Poems of the World)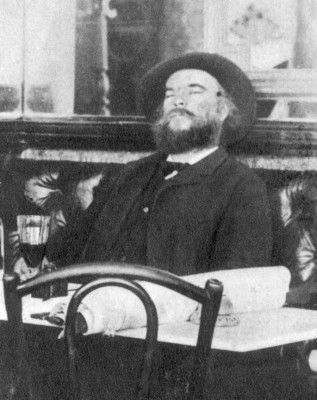 Other Literary Forms
Most of Paul Verlaine's other published works are autobiographical writings and critical articles on contemporary poets. During his lifetime, he published two plays which were performed—Les Uns et les autres (pr. 1884; the ones and the others) and Madame Aubin (pr. 1886)—and one short story, Louise Leclercq (1886). A collection of seven other short stories, Histories comme ça (1903; stories like that), was published posthumously.
The most significant of his critical writings were published under the title Poètes maudits (1884; cursed poets), which includes articles on Tristan Corbière, Arthur Rimbaud, Stéphane Mallarmé, Villiers de L'Isle-Adam, and others. Verlaine's Confessions (Confessions of a Poet, 1950) was published in 1895. Many of his previously unedited writings were published posthumously in a 1903 edition of his works, which includes several autobiographical pieces as well as some original ink drawings. All his prose works were published in the 1972 Pléiade edition.
Achievements
Paul Verlaine is universally recognized as one of the great French poets of the nineteenth century. His name is associated with those of his contemporaries Charles Baudelaire, Rimbaud, and Mallarmé. His most famous and frequently anthologized poems, such as "Chanson d'automne" ("Song of Autumn"), "Mon rêve familier" ("My Familiar Dream"), "Clair de lune" ("Moonlight"), and "Il pleure dans mon coeur" ("It Is Crying in My Heart"), are readily recognized and often recited by persons with any knowledge of French poetry. Many of his poems, including those cited, have been set to music by serious composers.
Verlaine's admirers include both saints and sinners, for Verlaine is at once the author of one of the most beautiful collections of religious poetry ever published and the writer of some explicitly erotic poems. During his lifetime, Verlaine's poetic genius was recognized by only a handful of poets and friends. His penchant for antisocial and occasionally criminal behavior (he was jailed twice for potentially murderous attacks) undoubtedly contributed to his lack of commercial success or popular recognition during his lifetime. By the end of his life, he had gained a small measure of recognition and received some income from his royalties and lecture engagements.
Biography
Paul Marie Verlaine was born in Metz, France, on March 30, 1844, the only child of Captain Nicolas-Auguste Verlaine and Elisa Dehée Verlaine. The family moved often during Verlaine's first seven years, until Captain Verlaine retired from the army to settle in Paris. Verlaine attended the Lycée Bonaparte (now Condorcet) and received his baccalauréat in 1862.
Verlaine's adoring mother and equally adoring older cousin Elisa Moncomble, whose death in 1867 affected him profoundly, spoiled the sensitive child, encouraged his demanding capriciousness, and helped him to become a selfish, immature, unstable young man.
After his baccalauréat, he worked in an insurance office and then found a clerical job in municipal government, which he kept until 1870. In 1863, he published his first poem, "Monsieur Prudhomme." He met Catulle Mendès, an editor of the literary magazine Le Parnasse contemporain, in which Verlaine published eight poems. In 1866, he published his first volume of poetry, Poèmes saturniens, and in 1869 a second volume, Gallant Parties.
Alcoholism began to take its toll on his personal life. Twice in drunken rages he threatened to kill his mother. His family tried to marry him to a strong-willed cousin, a fate which he avoided by proposing to Mathilde Mauté, whom he married in 1870 and who inspired his third volume of poetry, La Bonne Chanson.
Having served as press officer to the Commune of Paris during the 1870 insurrection, Verlaine subsequently fled Paris and lost his government job. He helped to found a new journal, La Renaissance , in which he...
(The entire section is 4,190 words.)