Discussion Topics
(Masterpieces of American Literature)
What circumstances led Paul Laurence Dunbar to discount the value of his dialect poems? Were he writing today, what circumstances might encourage him to value dialect poems more?
To what extent do Dunbar's poems in standard English reflect his African American identity?
How does the mask function generally in Dunbar's poetry and specifically in the poem "We Wear the Mask"?
Many modern-day poets and readers regard adherence to meter as a limitation on the poet's freedom. Explain how its use, including its irregularities, contribute to the effect of Dunbar's poems.
What lessons can a young black person accustomed to, and comfortable with, black English but resistant to, or unsuccessful in, standard English learn from Dunbar?
Other Literary Forms
(Literary Essentials: Short Fiction Masterpieces)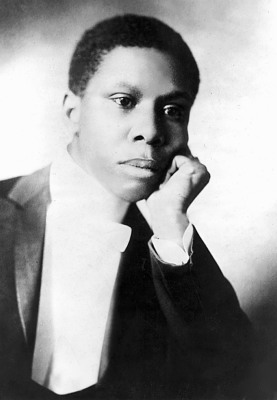 Known primarily for his verse, Paul Laurence Dunbar published Lyrics of Lowly Life in 1896; the collection vaulted him to fame as a premier dialect poet. He was the author, also, of five other volumes of original verse, three librettos written alone and with others, a drama, essays, and four novels, the most interesting of which is The Sport of the Gods (1902).
Achievements
(Literary Essentials: Short Fiction Masterpieces)
Paul Laurence Dunbar was America's first professional black writer and a great popular success. Championed for the dialect verse and stories of the plantation folk he was unequaled in rendering but which he himself despised as limited and compliant with existing stereotypes, Dunbar was hailed by the leading literary minds of his day.
Other literary forms
(Poets and Poetry in America)
Though Paul Laurence Dunbar is best known for his poetry, he was a fiction writer as well. His achievements in fiction include four volumes of short stories and four novels. Criticism of Dunbar's short fiction suggests that the stories contained in Folks from Dixie (1898) represent his best accomplishment in this literary form. His novels The Uncalled (1898) and The Sport of the Gods (1902) acquired more critical acclaim than his other two novels, The Love of Landry (1900) and The Fanatics (1901).
In addition to his work in these more traditional literary forms, Dunbar wrote an assortment of lyrics and libretti for a variety of theatrical productions. He also wrote essays for newspapers and attempted to establish a periodical of his own.
Achievements
(Poets and Poetry in America)
Paul Laurence Dunbar's literary career was brilliant, extending roughly across two decades. He can be credited with several first-time accomplishments: He was the first to use dialect poetry as a medium for the true interpretation of African American character and psychology, and he was the first African American writer to earn national prominence. In range of style and form, Dunbar is one of the most versatile of African American writers.
Bibliography
(Masterpieces of American Literature)
Alexander, Eleanor. Lyrics of Sunshine and Shadow: The Tragic Courtship and Marriage of Paul Laurence Dunbar and Alice Ruth Moore. Albany: New York University Press, 2001. Traces the tempestuous romance of the United States' most noted African American literary couple. Draws on love letters, diaries, journals, and autobiographies to tell the story of Dunbar and Moore's tumultuous affair, their elopement, Dunbar's abuse of Moore, their passionate marriage, and the violence that ended it. An examination of a celebrated couple in the context of their times, fame, and cultural ideology.
Best, Felton O. Crossing the Color Line: A Biography of Paul Laurence Dunbar. Dubuque, Iowa: Kendall/Hunt, 1996. One of the Dunbar biographies. Short fiction is discussed as evidence of Dunbar's restrictions and intentions.
Bone, Robert. Down Home: Origins of the Afro-American Short Story . New York: Columbia University Press, 1988. Discusses the "strictures" of Dunbar's time and the "travesties" of his fictional response. Judges Dunbar to be a "purveyor...
(The entire section is 865 words.)