Biography
(History of the World: The 19th Century)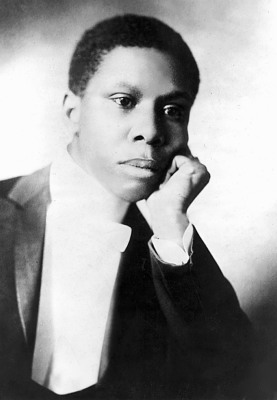 Article abstract: Dunbar's writing is recognized as providing the most authentic representations of African American life in the United States during the late nineteenth and early twentieth centuries.
Early Life
Paul Laurence Dunbar's parents, Joshua and Matilda Murphy Dunbar, were slaves until the early or mid-1860's. Matilda had been married to another slave, Willis Murphy, with whom she had two sons, both born in slavery. Willis, who joined the Union army and was never heard from again, sent his wife and sons to Dayton, Ohio, where they remained, presuming Willis was dead.
Matilda, ever eager to learn, attended night school. She soon became literate and mastered enough mathematics to keep her own accounts. In 1871, Matilda married Joshua Dunbar, who was twenty years her senior. In the following year, their first child, Paul Laurence Dunbar, was born.
Joshua never tired of telling his young son about his exploits, about how he clandestinely learned to read and write when slaves were punished, sometimes even killed, for trying to achieve literacy. Joshua recounted to his fascinated son details about his escape from slavery with the help of abolitionists via the Underground Railroad and his subsequent enlistment in the Fifty-fifth Division of the Union army, where he achieved the rank of sergeant. The tales Joshua wove eventually found their way into Dunbar's writing, which his mother had encouraged from Dunbar's earliest days. When Joshua and Matilda's second child, Elizabeth, died before her first birthday, Matilda focused all her attention and centered all of her hopes upon Paul.
Meanwhile, Joshua, unable to find work despite being literate and having a spotless military record, began to drink, causing dissension in the household. To relieve tension, Matilda spun tales about plantation life, which helped create a basis for much of Dunbar's later writing. Matilda finally divorced Joshua, after which Joshua spent his remaining years in the Soldier's Retirement Home in Dayton, where Dunbar often visited him.
Dunbar, who was the only African American in his high school graduating class, was class president and class poet. While still in high school, Dunbar published poetry in the Dayton Herald and worked as an editor for the Dayton Tattler. One of his fellow students was Orville Wright, who, along with his brother Wilbur, constructed and flew the first airplane. Dunbar and Orville remained good friends throughout their lifetimes.
Too poor to attend college, Dunbar discovered that Dayton offered few desirable jobs to African Americans at that time. He finally took a job as an elevator operator, which gave him time to write. He produced a number of stories and poems during this period, some of them written in the black-dialect style that first drew national attention to his writing.
Dunbar was invited to address the Western Association of Writers at its 1892 convention in Dayton. This initial appearance was arranged by Helen Truesdell, one of Dunbar's high school English teachers. At this meeting, Dunbar met James Newton Matthews, who wrote a letter praising Dunbar's writing. This letter was published in an Illinois newspaper and was subsequently reprinted in newspapers throughout the United States, bringing Dunbar considerable celebrity. James Whitcomb Riley read Matthews' letter and wrote an admiring letter to Dunbar. It was the encouragement the young poet received from Matthews and Riley that led him to collect his poems into the volume Oak and Ivy (1893). Printed at Dunbar's own expense, the poet quickly repayed the $125 printing costs by selling copies of the collection to people who rode his elevator.
Life's Work
The publication of Oak and Ivy changed the course of Dunbar's life. The collection contained many poems in standard English, which had been drilled into the young Dunbar by his mother. His "Ode to Ethiopia" remains among his most influential poems,...
(The entire section is 1,857 words.)