Other literary forms
(World Poets and Poetry)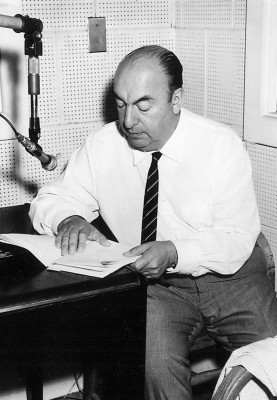 Pablo Neruda (nay-REW-duh) was an essayist, translator, playwright, and novelist as well as a poet. His memoirs, Confieso que he vivido: Memorias (1974; Memoirs, 1977), are a lyric evocation of his entire life, its final pages written after the coup that overthrew Salvador Allende. Neruda's translations include works by Rainer Maria Rilke, William Shakespeare, and William Blake. The volume Para nacer he nacido (1978; Passions and Impressions, 1983) includes prose poems, travel impressions, and the speech that Neruda delivered on his acceptance of the Nobel Prize. He has written a novel, El habitante y su esperanza (1926); a poetic drama, Fulgor y muerte de Joaquín Murieta (pb. 1967; Splendor and Death of Joaquin Murieta, 1972); and essays on Shakespeare, Carlo Levi, Vladimir Mayakovsky, Paul Éluard, and Federico García Lorca, as well as several works of political concern.
Achievements
(World Poets and Poetry)
Winner of the Nobel Prize in 1971, Pablo Neruda is one of the most widely read poets in the world today. His most popular book, Twenty Love Poems and a Song of Despair, has more than a million copies in print and, like much of his work, has been translated from Spanish into more than twenty languages. Neruda was so prolific a writer that nine of his collections of poems have been published posthumously.
Neruda's goal was to liberate Spanish poetry from the literary strictures of the nineteenth century and bring it into the twentieth century by returning verse to its popular sources. In Memoirs, written just before his death, Neruda congratulates himself for having made poetry a respected profession through his discovery that his own aspirations are representative of those shared by men and women on three continents. Writing on the rugged coast of southern Chile, Neruda found passion and beauty in the harshness of a world that hardens its inhabitants, strengthening but sometimes silencing them. His purpose was to give others the voice they too often lacked.
Bibliography
(World Poets and Poetry)
Agosin, Marjorie. Pablo Neruda. Translated by Lorraine Roses. Boston: Twayne, 1986. A basic critical biography of Neruda.
Dawes, Greg. Verses Against the Darkness: Pablo Neruda's Poetry and Politics. Lewisburg, Pa.: Bucknell University Press, 2006. Dawes examines how Neruda's poetry was affected by his political views during the Cold War. Examines the moral realism in "España en el corazon" (Spain in the Heart).
Feinstein, Adam. Pablo Neruda: A Passion for Life. New York: Bloomsbury, 2004. The first authoritative English-language biography of the poet's life. Thoroughly researched and indexed.
Longo, Teresa, ed. Pablo Neruda and the U.S. Culture Industry. New York: Routledge, 2002. A collection of essays examining the process by which Neruda's poetry was translated into English and the impact of its dissemination on American and Latino culture.
Méndez-Ramírez, Hugo. Neruda's Ekphrastic Experience: Mural Art and "Canto General." Lewisburg, Pa.: Bucknell University Press, 1999. This research focuses on the interplay between verbal and...
(The entire section is 697 words.)