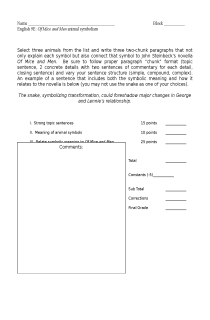 Animal Symbolism in Of Mice and Men
Download PDF

Excerpt From This Document
Select three animals from the list and write three two-chunk paragraphs that not only explain each symbol but also connect that symbol to John Steinbeck's novella Of Mice and Men. Be sure to follow proper paragraph "chunk" format (topic sentence, 2 concrete details with two sentences of commentary for each detail, closing sentence) and vary your sentence structure (simple, compound, complex). An example of a sentence that includes both the symbolic meaning and how it relates to the novella is below (you may not use the snake as one of your choices).
The snake, symbolizing transformation, could foreshadow major changes in George and Lennie's relationship.
I. Strong topic sentences
II. Meaning of animal symbols
III. Relate symbolic meaning to Of Mice and Men
About this Document
This writing assignment has students examine the animal references in Chapters 1 and 2 in Of Mice and Men and then discuss the symbolic relevance of its presence in the scene.