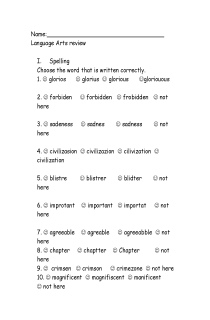 Number the Stars and Spelling Test
by Michelle P. Ossa, M.A.
Release Date: February 12, 2019
Subjects: Language Arts
Age Levels: Grade 5
Purchase a Subscription
Excerpt
Language Arts review
I. Spelling: Choose the word that is written correctly.
glorios, glorius, glorious, gloriouous
forbiden, forbidden, frobidden, not here
sadeness, sadnes, sadness, not here
civilizasion, civilizazion, cilivization, civilization
blistre, blistrer, blidter, not here
improtant, important, importat, not here
agreeable, agreable, agreeabble, not here
chapter, chaptter, Chapter, not here
crimsen, crimson, crimezone, not here
magnificent, magnifiscent, manificent, not here
What is the root word of the following? Write the root word and then give me an approximate synonym or similar word to what the root means.
gladness-__________ which means also _________.
imagine - __________ which means also _________.
forbidden-__________ which means also __________.
furious -_____________ which also means ___________.
powerful-____________ which also means _________________.
III. Answer the following questions from the story "Number the Stars" in complete sentences.
If you were to introduce Kristi to me, how would you describe her? Remember the way we learned to describe characters in class.
What problem occurred after Annemarie's mother, Inge, returned from taking the Jewish people to the boat? How did Annemarie propose to solve the problem?
What mood do you perceive in the story "Number the Stars"? Why do you think the author chose that mood to write her story?
IV: Grammar Mechanics: USE THE DOL SHEET AND RE-WRITE THE PARAGRAPH ON A SEPARATE SHEET OF PAPER. ALSO, ANSWER THE QUESTIONS IN COMPLETE SENTENCES.
About
Number the Stars (discussion, pt. 2) and Spelling.