Biography
(Masterpieces of American Literature)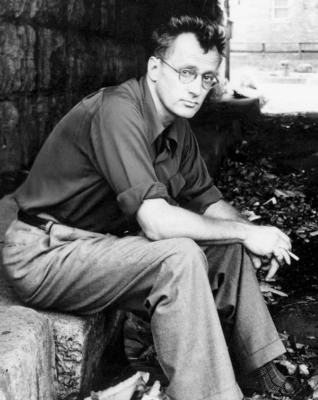 Born Nelson Ahlgren Abraham in Detroit, Michigan, on March 28, 1909, Nelson Algren is usually identified with Chicago, where his family moved in 1913. His mother, Goldie, was an ill-tempered, violent woman, and his uncouth father, Gerson, a mechanic, was an often remote presence. The emotionally insecure Algren preferred to identify with the wandering grandfather he never met, Nels Ahlgren, a Swedish convert to Judaism. A normal middle-class boy in most respects, Algren began frequenting pool halls, speakeasies, and gambling dens as a teenager.
Algren's strongest family bond was with Bernice, the younger of two older sisters. It was she who encouraged his literary interests and insisted he attend college, and her death in 1940 left a space no one ever filled. Socially aloof, Algren discovered his love of books at the University of Illinois, Urbana, and led an ascetic and "spiritual" life of study, with the occasional lapse. In college, he wrote stories which demonstrate his identification with the oppressed—an identification that his experiences on the road would deepen. In 1931, with a degree in journalism, he went in search of a job that was not to be had during the Great Depression. Taking up the hobo's life, he traveled to New Orleans, which, together with Chicago, was one of the two major cities of his fiction. There he was a door-to-door salesman before accompanying two drifters to Texas, where he became involved in an ill-fated scheme to run a gas station and later worked at a carnival.
After further travels, gathering experiences that he would turn into fiction, Algren returned home, joined a writers' group, and started submitting stories using Nelson Algren as his pen name (only changing it legally during World War II). Politically radical, he frequented the John Reed Club, a Communist Party organization, and met writers such as Richard Wright, the future author of Native Son (1940). Over the years, he would have close ties with the Communist Party, but it is not certain that he was ever a member.
After several rejections, he was published by Story and A Year in 1933. When Vanguard Press paid him an advance for a novel, Algren, who always wrote best from immediate experience, went back on the road. In Alpine, Texas, he spent almost a month in jail for stealing a typewriter from the local community college. Though his stories and reporting enhanced his reputation, Algren was devastated when Somebody in Boots (1935) was not a success. Despite favorable reviews, the novel did not sell, and he attempted suicide during an extended period of depression. Tough but compassionate in his interviews, Algren was actually deeply insecure and very self-destructive; he did not spare those around him, either, about which he felt guilty even as he denied it. This is clearest in his three ambivalent, tortured marriages, two of them to Amanda Kontowicz, whom he met following the "failure" of his first novel.
In 1936, Algren took a job with the Works Progress Administration, or WPA, a federal program then providing writers and artists with jobs. In 1939, to write his second novel, he moved to the Polish "triangle," the setting of his Chicago novels, a world of taverns, pool halls, gambling dens, police lineups, and brothels, where he recorded dialogue and anecdotes. With the success of Never Come Morning (1942), his confidence and spirits rose, though he made so little money that he was soon back on the public payroll with the Venereal Disease Control Project. During World War II, he served in the medical corps, seeing little action but enjoying wartime Marseilles, where he gambled away his black-market profits. Returning to Chicago, he settled down to a more austere life to complete a collection of stories, The Neon Wilderness (1947).
Algren's reputation growing in literary circles, he met Simone de Beauvoir, the French novelist and feminist author of Le Deuxiême Sexe (1949; The Second Sex ,...
(The entire section is 1,669 words.)