Download Neftalí Ricardo Reyes Basoalto Study Guide
Subscribe Now
Biography
(Masterpieces of World Literature, Critical Edition)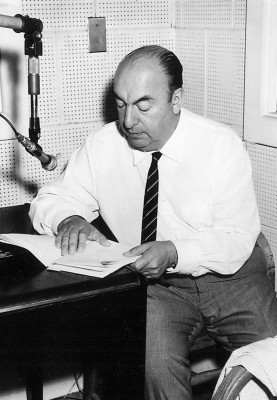 Born Neftalí Ricardo Reyes Basoalto in a small village in central Chile, the poet, at fifteen, changed his name to Pablo Neruda (nay-REW-duh), after the nineteenth century Czech writer Jan Neruda, after winning a national poetry competition in 1919. His mother died of tuberculosis just a month after his birth, but his father, who worked for the railroad, remarried two years later and moved the family, which included a brother and a sister, to the town of Temuco in southern Chile. Neruda's relation with his stepmother was close, and his boyhood in the remote milltown in Chile's rainy forests appears to have been happy.
The headmistress at his school in Temuco was Gabriela Mistral, a poet who was, in 1945, the first Latin American to win the Nobel Prize in Literature. She introduced the sensitive young man to the works of the French symbolists. In 1921, he went to the capital city of Santiago, where he studied French at the University of Chile, wrote for the student newspaper, and continued writing poems.
Neruda's first collection of poems, Crepusculario, appeared in 1923, when he was only nineteen. The year after, his first important book, Veinte poemas de amor y una canción desesperada (1924; Twenty Love Poems and a Song of Despair, 1969), appeared. This small book pleased a wide audience of readers with its lyrical, passionate, and erotic portrayal of romantic love. Immediately successful, the book continues to be read both in Spanish-speaking countries, where for years lovers have memorized its verses, and elsewhere in translation.
In 1927, Neruda traveled to Rangoon, Burma, as honorary consul from Chile, and until 1931, he served in various consular posts. Economic hardship and estrangement from his homeland made these difficult years for him, and his marriage to a Dutch Indonesian woman, Maria Antonieta Hagenaar, was not happy. His only child, a daughter who died in 1942, was born after his return to Chile and his subsequent appointment as consul to Barcelona in 1934.
Neruda was much happier in Spain, where he became friends with the renowned poet Federico García Lorca and where he met his second wife, Delia del Carril, an Argentinean painter. His sojourn in Spain was disrupted by the Spanish Civil War, which brought the fascist government of Francisco Franco to power. The three volumes of poetry published as Residencia en la tierra (1933, 1935, 1947; Residence on Earth, and Other Poems, 1946, 1973) reflect his stay in the Orient (1925-1931), in Spain before the Civil War (1931-1935), and the war and its aftermath (1935-1945). The first-person speaker in these poems is troubled, alienated, and given to reflections on disintegration and death.
In the late 1930's, Neruda's poetry increasingly reflected his growing sense of social and political involvement, and by 1940, when he was posted as consul to Mexico, he was at work on sections of what is considered his foremost achievement, the epic Canto general (1950; Canto General , 1991). This remarkable poem in fifteen parts runs more than four hundred pages in most...
(The entire section is 743 words.)