At a Glance
The ending of Guy de Maupassant's "The Necklace" is painfully ironic: the necklace Mathilde borrowed was a fake, and she has spent ten years slaving away to pay back the debt she incurred to replace it. Her initially honorable act proves foolish and misguided, a result of pride more than anything.
Mathilde Loisel's greatest flaw is her dissatisfaction. As a beautiful young woman in her prime, she believes she deserves more than a lower-middle-class life with an unambitious clerk for a husband. She wants to be rich, and it's this very desire to climb the social ladder that destroys her, plunging her into a life of poverty and debt.
For Mathilde, the necklace is a symbol of social status. When she wears it, she's the prettiest woman in the room and feels like part of the upper-class. In the end, however, the necklace becomes a symbol of Mathilde's downfall, causing her to fall deeply into debt. In the context of the story as a whole, the necklace proves that money does not equal happiness.
Style and Technique
(Comprehensive Guide to Short Stories, Critical Edition)
Maupassant learned much from his godfather and mentor, Gustave Flaubert, displaying in his short stories the same precision and sobriety of language. Maupassant is particularly good in creating atmosphere by describing sights and smells, places and things. He likes to describe his characters through the way that they view their own surroundings:She dreamed of hushed antichambers cushioned with oriental fabrics and illuminated by tall bronze candle sticks, with two imposing footmen in knee breeches, made drowsy by the oppressive heat of the radiators, dozing in large arm chairs. She imagined great rooms bedecked with ancient silk, with splendid furniture decorated with expensive knick-knacks, and of smaller intimate perfumed rooms, intended for five o'clock gossip with the closest friends, the men well-known and sought-after enjoying the envy and attention of every woman.
Although Maupassant tried to suppress his own passions to achieve that objectivity of description for which the realists were known, his sententiousness, nevertheless, shines through:Women have no class and no breeding. Their beauty, their grace, their charm are substitutes for birth and family. Their instinctive shrewdness, their predilection for elegance, their suppleness of spirit are their only system of rank, and in this way the daughters of the common people are the equals of the great ladies.
In this rather pessimistic view of women, Maupassant has descended to the level of the cliché, something that he is rarely guilty of doing, but he also gives his main character a deterministic slant, making her more a victim of forces beyond her control than he undoubtedly intended.
Historical Context
(Short Stories for Students)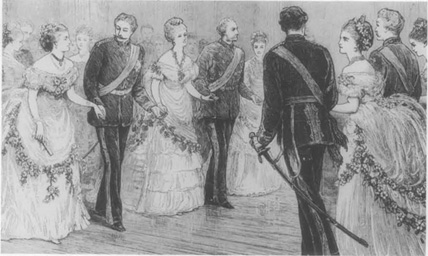 The Third Republic
Following the Franco-Prussian War of 1870-71 and the expulsion of Napoleon III as emperor, the remains of the French government reestablished itself as a republic. Peace with the Germans had been dearly bought; the French paid a five billion franc indemnity and surrendered...
(The entire section is 3,835 words.)