Biography
(History of the World: The 20th Century)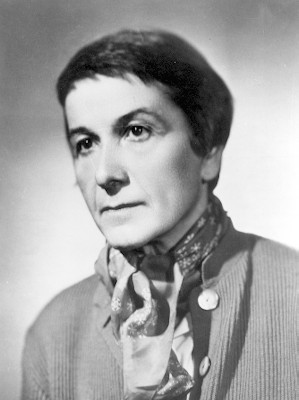 Article abstract: Sarraute is often called the mother of the French New Novel. The New Novel rejected nineteenth century novelistic concerns of character and plot and changed the face of French literature. After a thirty-year career of novel writing, Sarraute began playwriting and found new success on the Parisian stage.
Early Life
The daughter of Ilya Tcherniak, a chemist and owner of a dye factory, and Pauline Chatounowski, Sarraute was born in Russia on July 18, 1900. Her parents had met in Geneva while studying at the university; they were exiled from their native Russia because Nicholas II had barred Jewish students from attending universities in Russia. When Sarraute was two, her parents were divorced, and she began an unsettled childhood, constantly on the move between Russia, France, and Switzerland. Sarraute's own mother was a writer, who, having returned to Russia with her daughter and remarried, had published a number of novels and short stories under the male pseudonym Vichrowski. At the age of eight, Sarraute was finally settled in Paris with her father in the fourteenth arrondissement, the hub of Russian émigré activity in the city.
Through the influence of her artistic mother and the vital intellectuality provided by her father and the Russian community, Sarraute came to believe that women could equal the career success enjoyed by men. Sarraute pursued her studies in English at the Sorbonne, but she also read history at Oxford, England, and sociology at the Faculty of Letters, Berlin, before entering the University of Paris law school in 1922. While Sarraute chose to lead a highly demanding academic career, she also had a family life and, in 1925, married a fellow law student, Raymond Sarraute. Sarraute was a member of the Paris bar for twelve years, during which time she became the mother of three daughters and began her career in letters.
Life's Work
Sarraute's first work, Tropismes (1938, 1957; Tropisms, 1963), consists of a series of sketches that received a highly positive appraisal by Jean-Paul Sartre, but this one review comprised the only critical attention for the novel. This debut work already demonstrated the theoretical and innovative approach to writing that was to set Sarraute in the forefront of contemporary artists. The sketches are fragile moments in which an observer experiences alienation from another through gestures and tones of voice. Sarraute chose the term "tropism" from the field of biochemistry to describe a preverbal, instinctive, psychic movement, as primitive and imperceptible as that of a plant's response to light and water. Overt human acts or words—often those demanded by social convention—obscure these authentic responses according to Sarraute.
After the publication of Tropisms, Sarraute, a Jew, spent World War II posing as a governess to her children. Despite the lack of critical attention received for Tropisms, Sarraute began work on Portrait d'un inconnu (1948; Portrait of a Man Unknown, 1958). Sartre wrote an introduction to this second novel, which he described as an "anti-novel" because it rejected nineteenth century concepts of plot and character. Sarraute also rejects the position of omniscient narrator in the sense that she refuses to assume authority; her writing tends to conjure up the reader's own memories as well as creating her own imaginative world; rather than imposing her own vision through artistic manipulation, she allows room for the reader's participation in her texts.
It was not until nearly twenty years after the publication of Tropisms, after the publication of Portrait of a Man Unknown in 1948, Martereau (English translation, 1959) in 1953, and the popular Le Planétarium (1959; The Planetarium, 1960), that Sarraute began to receive recognition by the majority of French critics and the public. Since then, Sarraute has published a novel every four or five years: Les Fruits d'or (1963; The Golden Fruits
(The entire section is 1,745 words.)