Download Narrative of the Life of Frederick Douglass, an American Slave Study Guide
Subscribe Now
Narrative of the Life of Frederick Douglass
(American History Through Literature)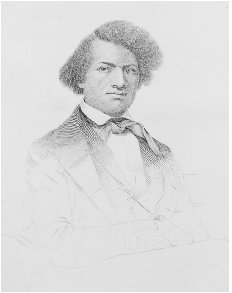 The author of the most influential African American autobiography of his era rebelled against his enslavement in the South and rose through the ranks of the American antislavery movement in the North to become the most electrifying speaker and compelling writer produced by black America in the nineteenth century. With the publication of the Narrative of the Life of Frederick Douglass, an American Slave, Written by Himself in June 1845, Frederick Douglass (1818895) became an international sensation at the age of twenty-seven. Within five years of its publication, Douglass's Narrative had become a best-seller, with an estimated thirty thousand copies in print by 1850. The Narrative's sales dwarfed the combined sales of such mid-nineteenth-century American literary classics as Herman Melville's Moby-Dick (1851), Henry David Thoreau's Walden (1854), and Walt Whitman's Leaves of Grass (1855) during the first five years of their publication. The success of the Narrative spurred its author's enlistment into the antislavery literary wars, where he became black America's most effective exponent. For a half century after the appearance of his Narrative, Douglass enjoyed fame and endured controversy as a newspaper editor, the author of three more autobiographies, a professional orator, a U.S. government official and diplomat, and a tireless civil rights agitator, all predicated on the inspiring self-image that he fashioned in the pages of his first and best-known book, the Narrative of the Life of Frederick Douglass. In the late twentieth century, Douglass's Narrative joined the canon of American literature, having been recognized as one of the most artful and influential autobiographies of the nineteenth century.
DOUGLASS'S ORIGINS IN SLAVERY
Frederick Douglass was born a slave on Maryland's Eastern Shore sometime in February 1818, according to his master's property book. Frederick's mother was Harriet Bailey, about whom he knew little other than that she enjoyed the rare distinction of being able to read. Douglass was never able to trace his paternity, though he speculated in his Narrative that Aaron Anthony, his master, had been his father. Growing up under the care of his grandmother, Betsy Bailey, Frederick had little chance to learn more about the world beyond the obscure backwater where he was born. But in 1826 he was selected by his master's son-inlaw, Thomas Auld, to go to Baltimore, where Frederick spent five years as a servant in the home of Auld's brother, Hugh. Hugh Auld's wife Sophia treated the bright and engaging slave boy with unusual kindness, giving reading lessons to Frederick until her husband forbade them. Ignoring Hugh Auld's dictates, Frederick took his first steps toward freedom and an eventual literary career by teaching himself to read and write.
In 1833 a quarrel between the Auld brothers brought Frederick, now a self-willed teenager, back to his home in St. Michaels, Maryland, where Thomas Auld, who had inherited Frederick, took charge of him. Provoked by the youth's lack of respect, Thomas Auld hired him out to Edward Covey, a local farmer and well-known slave breaker, in January 1834. After eight months of unstinting labor and repeated whippings, the desperate sixteen-year-old fought back. His forcible resistance unnerved Covey, compelling him to back down. In his Narrative, Douglass portrayed his struggle with Covey as "the turning-point in my career as a slave. It rekindled the few expiring embers of freedom, and revived within me a sense of my own manhood. It recalled the departed self-confidence, and inspired me again with a determination to be free" (p. 69). Douglass's portrayal of his triumph over Covey has become one of the most celebrated scenes in all of African American literature.
In the spring of 1836, after Frederick tried and failed to escape from slavery, Thomas Auld sent him back to Baltimore to learn...
(The entire section is 4,283 words.)