N. Scott Momaday Biography
N. Scott Momaday's novel House Made of Dawn was the first Native American book to break into mainstream American literature. It also won the Pulitzer Prize for fiction in 1969. Momaday began his life on a Kiowa reservation and was additionally exposed to the cultures of the Navajo, Apache, and Pueblo Indians because his parents were teachers on various reservations. After writing his first novel, he began teaching at the University of California at Berkeley and designed a graduate program in American Indian studies. He went on to write several collections of stories and poems as well as a play. His later books feature his own illustrations. All of his work focuses on Native American literature and mythology.
Facts and Trivia
For his doctoral dissertation, Momaday edited and annotated the complete works of American poet Frederick Goddard Tuckerman. Momaday had always been interested in poetry, and this was a continuation of that interest.
In 1969, Momaday was asked to join the Gourd Dance Society, an ancient Kiowa organization.
Momaday has been featured in several documentary films, including Ken Burns's The West, Last Stand at Little Big Horn, and Remembered Earth: New Mexico's High Desert.
Momaday is the Poet Laureate of Oklahoma and was awarded the 2007 National Medal of Arts by President George W. Bush.
Momaday's grandfather fought at the battle of Little Big Horn and said, "Custer looked whiter than ever!"
Biography
(Masterpieces of American Literature)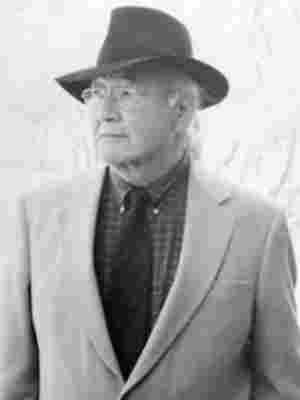 An award-winning poet, novelist, autobiographer, and scriptwriter, Momaday has concentrated his literary attention on that which he holds closest to his heart: the southwestern landscape, his American Indian heritage, artistic endeavor, and a synthesis of cultures. The minute detail of his passages on human and nonhuman facets of nature is masterful. His reverence for nature and his insistence that all humankind must recognize its responsibility to heal the physical and spiritual earth drive his works. He argues in varied ways that humans must first balance themselves in relation to their universe. A pioneer in creating new means through which to share Native American oral tradition, Momaday reshapes conventional written forms to serve his ends.
Born in the Kiowa and Comanche Indian Hospital, Momaday was registered as having seven-eighths Indian blood (with the remaining one-eighth attributable to pioneer ancestry); his name was registered as Novarro Scotte Mammedaty, born to Mayme Scott (Natachee) and Alfred Morris (Huan-toa) Mammedaty. It was Momaday's father who simplified the surname to its current spelling.
American Indians believe that the act of naming has the special significance of bringing the named one into existence and helping to chart his or her life course. Momaday has been granted the gifts of three separate namings. At six months of age, he was given his first Indian name by Pohd-lohk, stepfather of Mammedaty, Momaday's grandfather, who died of Bright's disease two years before Momaday was born. Devil's Tower (Tsoai), Wyoming, according to Kiowa oral tradition a sacred site of mystical power, was the basis by which he was named Tsoai-talee (Rock Tree Boy) by the old man. Before Momaday was five, a Sioux elder gave him his second Indian name, Wanbli Wanjila (Eagle Alone). Later in his life he received yet a third name, Tso-Toh-Haw (Kiowa for Red Mountain).
Momaday's mother was a teacher and a writer; his father, a teacher and an artist. Throughout Momaday's early years, his mother shared her love of English literature with him. Although his parents raised him to view English as his first language, they also encouraged him to immerse himself in the tribal cultures of the reservations on which they lived. Consequently, Momaday sees his childhood as an enriching experience. He considers his early formal education, however, including attendance at several Catholic schools, as unremarkable and substandard. At twelve, Momaday moved...
(The entire section is 2,168 words.)