Critical Overview
(Drama for Students)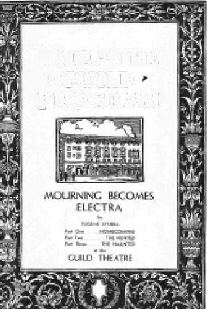 In adapting Oresteia, Eugene O'Neill set himself a challenging task. He explains he that hoped to create a "modern psychological approximation of [the] Greek sense of fate" and sets the play in New England because it evokes the "Puritan conviction of man born to sin and punishment." Critics continue to debate to what extent O'Neill succeeded in his project.
In its early reviews, Brooks Atkinson praised the play as "Mr. O'Neill's masterpiece," and John Mason Brown characterized it as "an achievement which restores the theatre to its high estate."
However, Eugene Burr derided the play as a "marathon by an author who takes himself too seriously... who wastes his own and his audiences' time by delving into morbid psychology that is just as unreal, just as fundamentally unimportant—and certainly as unentertaining—as the sentimentality which is verboten [forbidden] by his devotees."
According to George H. Jensen, O'Neill was an experimenter in technique who attempted ambitious projects; an "epigrammatic evaluation of O'Neill's career might be that he wrote some of the very best and some of the worst plays of the twentieth century."
Most critics consider the play one of O'Neill's best works. Some praise the piece for its insight into the human condition. Barrett H. Clark, for example, perceived the playwright's search "for a rational explanation of life and death, and what used to be called sin and evil."
Yet Clark also criticized Mourning Becomes Electra for a lack of emotion, describing it as "a tearless tragedy, remote, detached, august, artfully shaped, cunningly devised, skillfully related and magnificently conceived. It is concerned only indirectly with life as most of us see and feel it: it is comparable not so much to music or painting as to architecture."
Some critics characterize O'Neill's work as sensational, exploiting sex and violence without offering substantial motivation or explanation. For example, in Mourning Becomes Electra, his repeated use of incest shocks and promises some powerful thematic significance.
According to Clark, it instead lacked "complexity, darkness, or genuine passion ... [it seems] the mentalized fantasy of an adolescent temperament, and totally incompatible with the portentous philosophical attitudes it is meant to support."
Frederic Carpenter concurred that the play suffers from excessive reliance on Freudian notions of the Oedipus complex (in which a male child loves the mother and wants to eliminate the father) and the Electra complex (in which the female child loves the father and wants to eliminate the mother):
These protagonists [Orin, Christine, Lavinia, and Ezra] seem to have been born damned. Except for Electra [Lavinia], they do not achieve tragedy; they become merely the helpless victims of their inherited natures ... this psychological equivalent of original sin.
While many critics perceive that Orin is motivated by jealous Oedipal rage against his mother's infidelity, Carpenter asserted that his acts were the product of his mad heroism during battle. This interpretation makes O'Neill's point more political than psychological, in that "Orin seems to be driven by the tortured conscience of all modern men, in their realization of the evil of world war."
According to Michael Manheim, Mourning Becomes Electra disguised the playwright's "compulsion to reveal (while carefully hiding) the personal melodrama of his family home." Manheim identified two key themes: the "events and emotions centering on Ella O'Neill's addiction and later death" and "O'Neill's hostility toward his mother."
Manheim maintained that these conflicts appear most prominently in the play with the "sinning" or "suicidal" Christine representing Ella, while the "outraged" Lavinia and "guilt-ridden" and Orin symbolize Eugene.
One reason for the contradictory nature of O'Neill's critical reception may stem from the stereotypically American notion that sees everything bigger as better....
(The entire section is 938 words.)