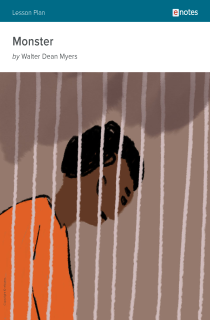 Monster eNotes Lesson Plan
*This download is only available with the eNotes Teacher's Subscription
Purchase a Subscription






73 pages
Language Arts,
Literature
For:
Grade 9
Grade 10
Grade 11
Grade 12
Excerpt From This Document
Learning Objectives: 
By the end of this unit, students should be able to
explain the effects of the narrative format of screenplay and journal entries, and identify how filmmaking works as a motif throughout the novel;
describe the protagonist's search for self and truth and discuss whether the results of his search are or can be absolute;
identify the "monsters" in both the novel and modern-day society, discuss the fairness of their portrayals, and explain why the title of the novel is effective;
compare and contrast perceptions about Steven from different points of view—from those of society in general, his mother, his father, the prosecutor, the jury, and his own attorney;
trace the general process of trying a defendant in court and examine where the system works and where it fails;
identify how the author elicits empathy for different characters, even characters that have engaged in criminal acts and explain the difference between empathy and sympathy;
describe different ways the characters "edit" their behavior for their particular audience (the viewer/reader, the jury, the police, their parents, or other authority figures);
identify the primary settings of the story and discuss how they frame and influence the story.
Introductory Lecture:
Author of more than fifty books, award winner, and a National Ambassador for Young People's Literature in 2008, Walter Dean Myers, born in 1937, shared the same humble beginnings as many of his characters. Myers's mother died when he was only two, and he went to live with foster parents in Harlem, where he grew up. An avid reader whose foster father was an English teacher, Myers still had difficulty in school because he suffered from a severe speech impediment. Even though he showed early writing talent, he dropped out of high school and joined the army on his seventeenth birthday. Myers continued writing, however, and his first book, Where Does the Day Go?, was published in 1969. 
Thirty years later, Myers published Monster, a striking drama that tells the story of sixteen-year-old Steven Harmon on trial for felony murder; the book includes illustrations and photographs provided by Myers's son, Christopher. Although the plot of the novel is deceptively simple, Myers probes with candor and depth the immediate and catastrophic effects of one boy's decision, demonstrating how quickly and completely life can turn. Following the events of a December day, life irrevocably changes for Steve Harmon and his family, formerly ordinary people with productive lives and dreams for the future, who now know the terror and pain of the criminal justice system. As the drama builds toward the verdict in Steve's trial, readers come to realize that innocence is gone, irrespective of the jury's decision. Monster was hailed by critics as an extraordinary literary achievement; the novel was nominated for the 1999 National Book Award for Young People's Literature, and in 2000, it won the first Michael L. Printz Award, as well as a Coretta Scott King Award.
The story is told from Steve Harmon's point of view. In order to relate the traumatic events as they happen, Steve frames the trial and backstory through a movie lens, writing his story as a screenplay. The movie is interspersed with diary entries that show the raw fear and terror Steve feels living in the detention center, waiting for the jury to deliver his fate. A book rooted in part in Myers's childhood experiences in Harlem and researched through hundreds of inmate interviews, Monster has come under some fire for its unflinching look at both the American criminal justice system and life on the street. Myers engages in a careful, probing exploration of subjects often considered in absolute terms, including truth, guilt, and responsibility. The very format of the novel serves to destabilize notions of the typical narrative and outcome: The font shouts, whispers, and begs; the camera angle abruptly changes perspectives, showing the less common viewpoint; easy conclusions evade print or film. Instead, Steve's black-and-white world is at once stark and grainy, predetermined and shifting, full of terror and possibility. 
Leonard S. Marcus of the New York Times Book Review praised Myers in 2008 for his hard-to-achieve balance of realism and optimism that wins over the most cynical of teen readers. Marcus wrote: "Drugs, drive-by shootings, gang warfare, wasted lives—Myers has written about all these subjects with nuanced understanding and a hard-won, qualified sense of hope." 
This is where Myers's artistry truly shines. He is able to show the humanity in each well-drawn character—from Steve with his naïve wish to front as a neighborhood tough guy to his father with his shattered dreams for his son to petty criminals rendered terror-struck by the realities of prison life. Even suburban or rural readers with little sense of the world Myers describes can empathize with much they find in these pages and explore their own part in the system of criminal justice which Myers describes with such power and eloquence.
About this Document
Our eNotes Comprehensive Lesson Plans have been written, tested, and approved by active classroom teachers. Each plan takes students through a text section by section, glossing important vocabulary and encouraging active reading. Each is designed to bring students to a greater understanding of the language, plot, characters, and themes of the text. The main components of each plan are the following:
An in-depth introductory lecture
Discussion questions
Vocabulary lists
Section-by-section comprehension questions
A multiple-choice test
Essay questions
Each plan is divided into a teacher and a student edition. The teacher edition provides complete answer keys for all sections, including example answers for the essay questions.