Media Adaptations
(Drama for Students)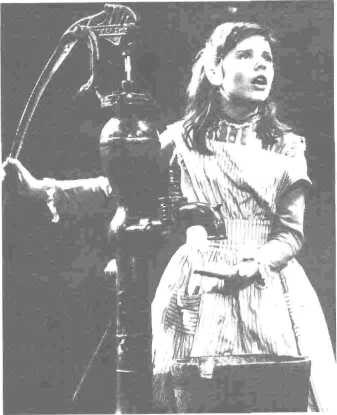 The Miracle Worker was originally written for television and produced on CBS's Playhouse 90 in February of 1957. Teresa Wright starred as Annie and Patty McCormack portrayed Helen.
The film version of The Miracle Worker was produced in 1962 by Metro-Goldwyn-Mayer. It was adapted by Gibson himself, directed by Arthur Penn, and stars Anne Bancroft as Annie and Patty Duke as Helen—both leads in the original Broadway production of the play. The film is available on videocassette.
The 1979 television remake of The Miracle Worker, which stars Patty Duke as the teacher Annie and Melissa Gilbert as Helen, is available on videocassette from Warner Home Video. The production bears noting, as the same script used for the original Playhouse 90 production was used for this remake.
Bibliography and Further Reading
(Drama for Students)
SOURCES
Brustein, Robert "Two for the Miracle," in The New Republic, Vol. 144, no. 19, November 9,1959, pp. 28-29.
Duprey, Richard A. ''An Enema for the People'' in his Just Off the Aisle: The Ramblings of a Catholic Critic, Newman Press, 1962, pp. 135-46.
Hayes, Richard. "Images" in Commonweal, Vol LXXI, no. 10, December 4, 1959, p. 289.
FURTHER READING
Atkinson, Brooks. "Miracle Worker. Two Strong Minds and Two Strong Players" in the New York Times, November 1, 1959, p. 1.
A favorable review of the play's Broadway premiere Atkinson finds favor with both Gibson's material and the performances of the lead actresses.
Contemporary Literary Criticism, Volume 23, Gale, 1983.

Provides an overview of Gibson's work, providing criticism on a number of his plays, including The Miracle Worker.
Dictionary of Literary Biography, Volume 7: Twentieth Century American Dramatists, Gale, 1981.
An overview of Gibson's career, with insights into a number of his works.
Tynan, Kenneth. "Ireland Unvanquished" in the New Yorker, Vol. XXXV, no. 37, October 31,1959, pp. 131-36.

A mixed review of The Miracle Worker that ultimately finds the play somewhat exploitive.
Bibliography
(Great Characters in Literature)
Brustein, Robert. "Two for the Miracle." The New Republic 141, no. 19 (November 9, 1959): 28-29. Argues that Gibson is a gifted writer, with literary and dramatic skills, but that The Miracle Worker is merely an essay on interpersonal relations and that Gibson's weakness for the inspirational dooms him to the second rank.
(The entire section is 503 words.)