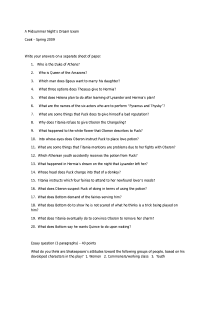 Test - A Midsummer Night's Dream
Download PDF

Excerpt From This Document
A Midsummer Night's Dream Exam Cook – Spring 2009
Write your answers on a separate sheet of paper.
Who is the Duke of Athens?
Who is Queen of the Amazons?
Which man does Egeus want to marry his daughter?
What three options does Theseus give to Hermia?
What does Helena plan to do after learning of Lysander and Hermia's plan?
What are the names of the six actors who are to perform "Pyramus and Thysby"?
What are some things that Puck does to give himself a bad reputation?
Why does Titania refuse to give Oberon the Changeling?
What happened to the white flower that Oberon describes to Puck?
Into whose eyes does Oberon instruct Puck to place love potion?
What are some things that Titania mentions are problems due to her fights with Oberon?
Which Athenian youth accidently receives the potion from Puck?
What happened in Hermia's dream on the night that Lysander left her?
Whose head does Puck change into that of a donkey?
Titania instructs which four fairies to attend to her newfound lover's needs?
What does Oberon suspect Puck of doing in terms of using the potion?
What does Bottom demand of the fairies serving him?
What does Bottom do to show he is not scared of what he thinks is a trick being played on him?
What does Titania eventually do to convince Oberon to remove her charm?
What does Bottom say he wants Quince to do upon waking?
Essay question (3 paragraphs) – 40 points
What do you think are Shakespeare's attitudes toward the following groups of people, based on his developed characters in the play? 1. Women 2. Commoners/working class 3. Youth
About this Document
Short Answer/Essay test for A Midsummer Night's Dream.