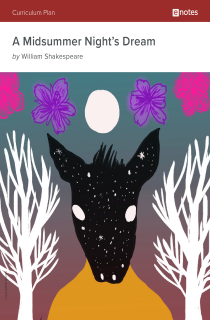 A Midsummer Night's Dream eNotes Curriculum Plan
*This download is only available with the eNotes Teacher's Subscription
Purchase a Subscription






59 pages
For:
Grade 9
Grade 10
Grade 11
Grade 12
Excerpt From This Document
Shakespeare's play reflects the stratified society in which he lived. The royals versus the tradesmen were only one part of the battles; theater companies were another front in the culture wars. Professional acting troupes such as Shakespeare's company (operating under the patronage of Lord Chamberlain) resented amateur companies such as Bottom's ragtag group of players in A Midsummer Night's Dream.
Here are a few points to consider, ways in which the "amateurs" are presented as unprofessional: (1.) The "mechanicals" are represented as very foolish and in a child-like position to their superiors. (2.) Bottom's name puts him literally at the "bottom" of the social pecking order.
About this Document
Our Shakespeare curriculum guides have been created with feedback from hundreds of teachers who are active on eNotes. Each lesson plan includes the following: individual daily lessons covering an entire unit; traditional one-hour schedules with a clear sequence of activities; cross-curriculum activities; vocabulary enrichment; homework assignments; exams with answer keys.