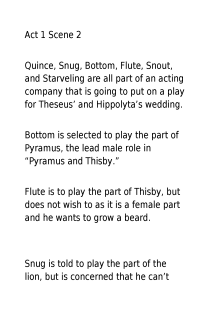 A Midsummer Night's Dream, Act 1 Scene 2 notes
Download PDF


Excerpt From This Document
Act 1 Scene 2
Quince, Snug, Bottom, Flute, Snout, and Starveling are all part of an acting company that is going to put on a play for Theseus' and Hippolyta's wedding.
Bottom is selected to play the part of Pyramus, the lead male role in "Pyramus and Thisby."
Flute is to play the part of Thisby, but does not wish to as it is a female part and he wants to grow a beard.
Snug is told to play the part of the lion, but is concerned that he can't memorize the lines in time. Quince reminds him that it consists only of roaring.
Bottom wishes to play the part of the lion, and Thisbyas well. However, Quince says that he'd be too good at the lion, and would scare the duchess and ladies at the wedding.
The men are afraid they will be hanged for scaring the ladies, and advise Snug to use a very small, quiet voice when roaring.
They agree to meet the next night to practice just outside of town.
About this Document
Notes over the second scene of Act I in A Midsummer Night's Dream