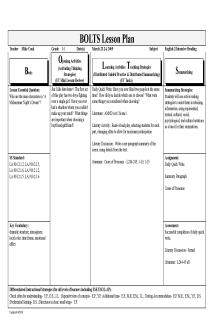 A Midsummer Night's Dream - Act 1 Scene 1
Download PDF


Excerpt From This Document
Who are the main characters in "A Midsummer Night's Dream"?
Key Vocabulary: dramatic structure, atmosphere, local color, time frame, emotional effect
But I like him better! The first act of this play has two boys fighting over a single girl. Have you ever had a situation where you couldn't make up your mind? What things are important when choosing a boyfriend/girlfriend?
Daily Quick Write: Have you ever liked two people at the same time? How did you decide which one to choose? What were some things you considered when choosing?
Literature: AMND Act I Scene i
Literary Activity: Read-Aloud play, selecting students for each part, changing often to allow for maximum participation
Literary Discussion: Write a one paragraph summary of the scene, using details from the text.
Summarizing Strategies: Students will use active reading strategies to assist them in retaining information, using experiential, textual, cultural, social, psychological, and cultural notations as a basis for their summations.
About this Document
Covers A Midsummer Night's Dream Act 1 Scene 1.