Biography
(19th-Century Biographies)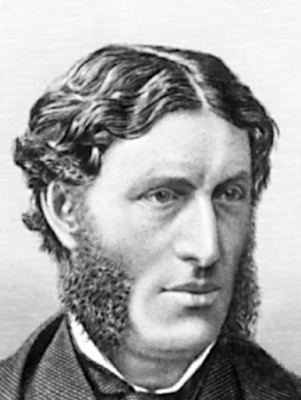 Early Life
Matthew Arnold was born on December 24, 1822, in Laleham, England, a small town on the Thames near London. His father, Thomas Arnold, conducted a school there; his mother, Mary Penrose Arnold, was an Anglican clergyman's daughter. The Arnolds were a closely knit family; Matthew, the second of nine children, was especially devoted to his older sister Jane. He had a close relationship with his mother until her death in 1873, and his father's influence on him was crucial. In 1828, the Arnold family moved to Rugby, and in the years that followed, Thomas Arnold became famous as an educational and religious leader. As Headmaster of Rugby School, Thomas Arnold instituted reforms designed to regenerate his students' moral, spiritual, and intellectual lives and to prepare them to become responsible leaders in a rapidly changing society. A notable writer on the religious and political issues of the day, Thomas Arnold was a proponent of a broadly Christian and unified national Church. Throughout his career, Thomas Arnold also devoted himself to the study and teaching of history. This devotion, along with his ethical seriousness, his activity as an educational reformer, and his engagement in religious controversies, helped to shape his son Matthew's interests and thinking throughout his adult life.
In his boyhood and youth, however, Matthew Arnold did not prove to be a particularly devoted or distinguished student. Because he failed to progress under private tutorship at home, he was sent away for two years (1831-1832) to his uncle's strict school at Laleham. There, he felt exiled from his family. When he returned home to study with a private tutor, he became a somewhat more conscientious—though certainly not brilliant—student, and he began to develop a love of poetry. His family and his environment helped this love to grow. In 1831, the Arnolds had begun to make summer trips to the Lake District, where the poets Robert Southey and William Wordsworth lived, and in 1833-1834, they built a summer residence at Fox How, near Wordsworth's home. Thus the Wordsworths and the Arnolds became friends. Wordsworth's poetry eventually was to influence Arnold's at least as much as any other English poet's; many of Arnold's poems directly echo or respond to Wordsworth. A significant part of the drama of Arnold's career as a poet and critic, in fact, arises from his sad realization that, whether for personal or cultural reasons, he was unable to speak to the Victorian age as Wordsworth had to the Romantic: "But where will Europe's latter hour/ Again find Wordsworth's healing power?"
After spending a year at Winchester, the public school his father had attended, Arnold came back to Rugby School, where he studied from 1837 to 1841. There, in 1840, he met Arthur Hugh Clough (1819-1861), a brilliant scholar and accomplished poet who was to become his close friend at Oxford. This important friendship continued until Clough's death. In his conversations and correspondence with Clough, Arnold began to develop and articulate many of his ideas, feelings, and values relating to poetry and modern life. In his letters, Arnold criticized Clough's poetry as overly topical and intellectual, but he also found fault with his own poems. His chief target, however, was his age: "Reflect too, as I cannot but do here more and more, in spite of all the nonsense some people talk, how deeply unpoetical the age and all one's surroundings are. Not unprofound, not ungrand, not unmoving:—but unpoetical." Arnold wrote these words in 1849, and in much of his later work as a critic, he would proceed from that point of view.
A decade earlier, however, when he was still a student at Rugby, no one would have predicted such concern on his part, least of all his father, who worried constantly about Arnold's apparent carelessness about his studies. A normal adolescent, Arnold...
(The entire section is 3,335 words.)