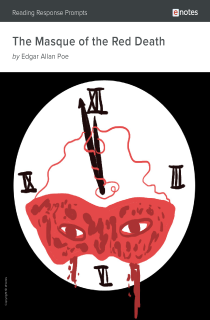 The Masque of the Red Death eNotes Reading Response Prompts
*This download is only available with the eNotes Teacher's Subscription
Purchase a Subscription






9 pages
Language Arts,
Literature
For:
Grade 8
Grade 9
Grade 10
Grade 11
Excerpt From This Document
The Red Death is a plague sweeping through a European land during medieval times. How is it spread? What makes it especially horrible and terrifying?
Describe Prince Prospero's plan to protect himself and his friends from the Red Death. How does he carry it out? What do you think Prospero's actions imply about him?
How does the author describe the "castellated abbey" where Prince Prospero and his guests take refuge? In what ways is it very different from other castles?
Describe the festive ball Prince Prospero organizes to entertain himself and his friends. In what ways is it unusual? How does it suggest that Prospero's tastes are so "peculiar" that some people "would have thought him mad"?
Where is the ebony clock located in the castle? Describe how Prince Prospero's friends react each time the ebony clock strikes the hour early in the evening. How do their reactions create an atmosphere of mystery and suspense?
The costumed revelers and their movements throughout Prince Prospero's rooms seem similar to visions found in nightmares or in madness. What are some words and phrases used by the author that create these strange images?
How do Prince Prospero's friends respond when the ebony clock strikes midnight? How are their reactions different from those that occurred previously when the clock sounded the hour? What seems to prompt the change in how they react?
About this Document
These eNotes Reading Response Prompts are designed to encourage your students to read more effectively and with more pleasure by giving them interesting subjects to write about after they have read. Many of the prompts will take them directly into the text, while others will give them an opportunity to express their thoughts and feelings and to reflect on their own experiences.
A second purpose of the eNotes Reading Response Prompts is to facilitate instruction in ways that work for you in the classroom. The organization of the prompts makes them easy to use, and the content and construction of the prompts are designed to develop students' knowledge and academic skills.