Biography
(Masterpieces of Fiction, Detective and Mystery Edition)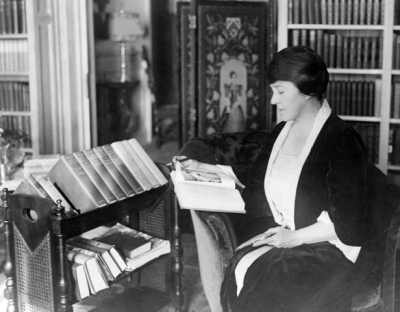 Mary Roberts Rinehart, born Mary Roberts, was reared in Pittsburgh. Her father was an unsuccessful salesman, and her mother took in roomers. At fifteen, Mary was editing her high school newspaper and writing stories for Pittsburgh Press contests. In 1893 she entered nurse's training at a hospital whose public wards teemed with immigrants, industrial workers, and local prostitutes. In 1895 her father committed suicide. Mary Roberts completed her training and, in April, 1896, married a young physician, Stanley Rinehart.
In the next six years she had three sons, helped with her husband's medical practice, and looked for a means of self-expression. By 1904 she was selling short stories to Munsey's Magazine, Argosy, and other magazines. The Circular Staircase was published, and The Man in Lower Ten (1909) became the first detective story ever to make the annual best-seller list.
In 1910-1911, the Rineharts traveled to Vienna so that Stanley Rinehart could study a medical specialty. During the next few years, Rinehart wrote books with medical and political themes. When war broke out, she urged The Saturday Evening Post to make her a correspondent. In 1915 reporters were not allowed to visit the Allied lines, but Rinehart used her nurse's training to earn Red Cross credentials. She examined hospitals, toured "No Man's Land," and interviewed both the king of Belgium and the queen of England.
Her war articles made Rinehart a public figure as well as a best-selling novelist. She covered the political conventions of 1916 (taking time out to march in a women's suffrage parade) and turned down an offer to edit Ladies' Home Journal. In 1920 two plays written with Avery Hopwood were on Broadway. The Bat had an initial run of 878 performances and eventually brought in more than nine million dollars. Rinehart lived in Washington, D.C., during the early 1920's. In 1929 two of her sons set up a publishing firm in partnership with John Farrar. Annual books by Mary Roberts Rinehart provided dependable titles for the Farrar and Rinehart list.
Rinehart moved to New York in 1935, following her husband's death in 1932, and continued an active life. Eleven of her books made best-seller lists between 1909 and 1936. The comic adventures of her dauntless never-married heroine Tish had been appearing in The Saturday Evening Post since 1910. During the 1930's, she also produced an autobiography, wrote the somber short fiction collected in Married People (1937), and underwent a mastectomy. In 1946 Rinehart went public with the story of her breast cancer and urged women to have examinations. Her last novel was published in 1952, although a story in Ellery Queen's Mystery Magazine in 1954 neatly rounded out the half century of detective writing since her poem "The Detective Story"—a spoof of the Sherlock Holmes craze—appeared in Munsey's Magazine in 1904. She died in 1958.