Discussion Topics
(Masterpieces of American Literature)
How does Mark Twain's development of the theme of American innocents abroad differ from that of Henry James?
In what respects is Life on the Mississippi a preparation for Adventures of Huckleberry Finn?
What makes Adventures of Huckleberry Finn much more than a "spin-off" of The Adventures of Tom Sawyer?
How legitimate are the concerns that have led certain school systems and libraries to ban or exclude Adventures of Huckleberry Finn?
What lessons has Huck learned by the end of his adventures?
How do you account for the growing pessimism in Twain's later books?
Consider Twain as a practitioner of "the art that conceals art."
Other Literary Forms
(Literary Essentials: Short Fiction Masterpieces)
As a professional writer who felt the need for a large income, Mark Twain published more than thirty books and left many uncollected pieces and manuscripts. He tried every genre, including drama, and even wrote some poetry that is seldom read. His royalties came mostly from books sold door to door, especially five travel volumes. For more than forty years, he occasionally sold material, usually humorous sketches, to magazines and newspapers. He also composed philosophical dialogues, moral fables, and maxims, as well as essays on a range of subjects which were weighted more toward the social and cultural than the belletristic but which were nevertheless often controversial. Posterity prefers his two famous novels about boyhood along the banks of the Mississippi, The Adventures of Tom Sawyer (1876) and Adventures of Huckleberry Finn (1884), although Twain also tried historical fiction, the detective story, and quasi-scientific fantasy.
Achievements
(Literary Essentials: Short Fiction Masterpieces)
Certainly one of the United States' most beloved and most frequently quoted writers, Mark Twain earned that honor by creating an original and nearly inimitable style that is thoroughly American. Although Twain tried nearly every genre from historical fiction to poetry to quasi-scientific fantasy, his novels about boyhood on the Mississippi, The Adventures of Tom Sawyer and Adventures of Huckleberry Finn, are the works that permanently wove Twain's celebrity status into the fabric of American culture. During his own lifetime, Twain received numerous honors including an M.A., soon followed by an LL.D., from Yale University. The University of Missouri granted him another doctorate in 1902. His proudest moment, however, was in 1907, when the University of Oxford awarded him an honorary LL.D. He was so proud of his scarlet doctor's gown that he wore it to his daughter's wedding.
Other literary forms
(Survey of Novels and Novellas)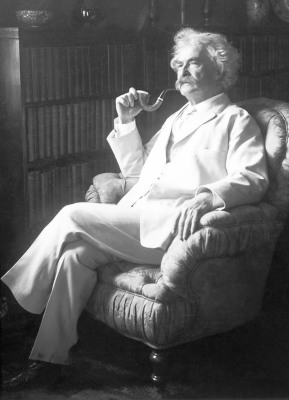 In addition to his novels, Mark Twain wrote a great deal of short fiction, which can be divided, although often only arbitrarily, into short stories, tales, and humorous sketches. One of the best examples of his short stories is "The Man That Corrupted Hadleyburg," and one of the best examples of his humorous sketches is the jumping frog story. Somewhere between the story and the sketch are tales such as "Captain Stormfield's Visit to Heaven."
Twain also wrote speeches and essays, both humorous and critical. Representative of his best satiric essays, which range from the very funny to the very sober, are "Fenimore Cooper's Literary Offenses" and "To the Person Sitting in Darkness." The first of these is a hilarious broadside against Cooper's style and invention in which Twain is obviously enjoying himself while at the same time continuing his ongoing war against the romanticizing of the past. "To the Person Sitting in Darkness," considered by some to be his finest piece of invective, is his attack on what he saw as the exploitation of the Philippines following the Spanish-American War by, in his words, "The Blessings-of-Civilization Trust."
Early in his career, Twain wrote the travel sketches and impressions The Innocents Abroad (1869), Roughing It (1872), and A Tramp Abroad (1880), and later, Following the Equator (1897). Two of his most important books are autobiographical, Life on the Mississippi (1883) and Mark Twain's Autobiography , published in...
(The entire section is 9,526 words.)