Biography
(Great Authors of World Literature, Critical Edition)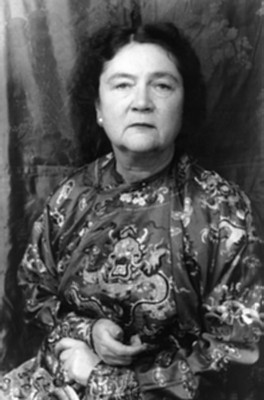 Marjorie Kinnan Rawlings was born Marjorie Kinnan in Washington, D.C., on August 8, 1896. She attended the University of Wisconsin, where she majored in English, was a member of the school drama club, belonged to the Kappa Kappa Gamma sorority, was elected to Phi Beta Kappa, and was on the editorial staffs of the school literary magazine and yearbook. She graduated in 1918 and subsequently worked as a publicist for the Young Women's Christian Association in New York City.{$S[A]Kinnan Rawlings, Marjorie;Rawlings, Marjorie Kinnan}
In 1919, Kinnan married writer and boating enthusiast Charles Rawlings, and the couple moved to Rochester, New York. From 1919 to 1928, she wrote a newspaper column for United Features called "Songs of the Housewife." During these years, Rawlings was also trying to publish fiction, although unsuccessfully. In 1928, she bought an orange grove at Cross Creek in Hawthorne, Florida, a north central Florida area to which she moved. In March, 1930, Scribner's accepted her "Cracker Chidlings," a group of anecdotes about local life.
In 1933, Rawlings gained national recognition with her first published novel, South Moon Under; that same year her marriage ended in divorce. South Moon Under was selected by a national book club and received superb reviews. The book examines the difficulties of a hunter's life; its setting, the Florida scrub country surrounding Ocala, has been compared to Thomas Hardy's Wessex. Rawlings's setting, like Hardy's, approaches the function of a fictional character.
Golden Apples, Rawlings's second published novel, is set in north central Florida in the 1890's. It contrasts the struggles of a Florida boy and his sister who take over an abandoned orange grove to the way of life of a young Englishman who has disgraced himself with his father. Though flawed, the novel reveals much about Rawlings's personality; her solitary life was an unfulfilled one despite her literary successes.
Rawlings's best novel, The Yearling, appeared in 1938. It is the story of a lonely twelve-year-old, Jody Baxter, who makes a pet of a young deer; when the deer ruins the family's crops, Jody has to shoot his pet. The Yearling, one of the great regional works of American literature, has been compared to Mark Twain's 1884 masterpiece Adventures of Huckleberry Finn. Jody was modeled after an orphan boy whom Rawlings met near Banner Elk, North Carolina, while she was living in a rented cottage working on the novel.
The Yearling was an immediate success; it was a Book-of-the-Month Club selection and a best-seller, and within months, the film rights were purchased by Metro-Goldwyn-Mayer. In 1939, the book received a Pulitzer Prize. Global acclaim followed, and the film version, shot in Silver Springs, Florida, not far from Rawlings's Cross Creek home, was released in 1946.
In 1939, Rawlings was awarded membership in the National Institute of Arts and Letters and received the degree of doctor of letters from Rollins College. She also taught a course in creative writing at the University of Florida. When the Whippoorwill, a collection of eleven short stories about the lives of north central Florida poor whites, was published in 1940. The title is drawn from the nature lore of Cross Creek. In 1941, Rawlings married Norton Sanford Baskin, a restaurateur and hotel operator, and moved to St. Augustine to be with him. Cross Creek, an autobiographical tale of the author's years in the Florida woods, was issued in 1942. It was another Book-of-the-Month Club selection and best-seller and was made into a film in 1983.
In 1943, Zelma Cason, a former Cross Creek friend, brought a libel suit for $100,000 against Rawlings, claiming that some passages in Cross Creek were causing her anguish. Cason maintained that the worst passage was this: "Zelma is an ageless spinster resembling an angry and efficient canary. . . . I cannot decide whether she should have been a man or a mother." Apparently, many of Cason's neighbors regarded Rawlings's portrait as accurate and even complimentary, but Rawlings lost the case on appeal. Initially, the state supreme court ruled that grounds existed for the suit if the charge were changed from "libel" to "invasion of privacy." Subsequently, Florida's supreme court reached a compromise verdict in which Cason was awarded one dollar in damages. The proceedings, which went on for five years, were a terrible ordeal for Rawlings.
During the last years of her life, Rawlings had a home in upstate New York, where she lived during the summer months; she spent winters in Florida. Her last novel, The Sojourner, which deals with the theme of physical insecurity, has Otsego County, New York, as its setting. On December 14, 1953, Rawlings died of a cerebral hemorrhage in St. Augustine and was buried in Antioch Cemetery at Island Grove, four miles from Cross Creek. Her children's book, The Secret River, was published posthumously in 1955, and Blood of My Blood, an autobiographical novel written in 1928, was published in 2002.
Biography
(Survey of Novels and Novellas)
Marjorie Kinnan Rawlings was the older of two children born in Washington, D.C., to Ida May Traphagen Kinnan and Frank R. Kinnan, a patent attorney. Rawlings read widely and began writing early. By the time she was six years old, she was submitting stories to area newspapers. At the age of eleven, she won a two-dollar prize in a contest sponsored by The Washington Post; at age fifteen, she placed second in McCall's Child Authorship Contest and saw her story published in that magazine.
Rawlings's father died in 1913, and the next year, the family moved to Madison, Wisconsin. That fall, Rawlings entered the University of Wisconsin, where she majored in English and was active in college publications and in the drama society. As a junior, she was elected to Phi Beta Kappa. After graduation, she moved to New York City and worked for a year for the Young Women's Christian Association. In 1919, she married Charles A. Rawlings, Jr., a journalist whom she had met at the university, and they moved to his hometown, Rochester, New York. During the next nine years, Rawlings wrote features for newspapers, advertising copy, and a syndicated column. However, all the short stories she submitted to magazines were rejected.
After visiting central Florida in 1928, the couple decided to move to the area. Purchasing an orange-grove property at Cross Creek, they settled down in their new home, and Rawlings began using Florida settings for her fiction. Within a year, she was a regular contributor to Scribner's Magazine, working closely with the influential editor Maxwell Perkins. Rawlings's first novel, South Moon Under, appeared in 1933. That same year, Charles and Marjorie were divorced.
For the next eight years, Rawlings lived alone at Cross Creek, ran her business and her household, and wrote short stories and two more novels, the disappointing Golden Apples and The Yearling. She enjoyed cooking and entertaining, going on outdoor expeditions, corresponding with interesting people, and visiting with her neighbors. One of her closest friends was Norton Sanford Baskin. In 1941, she married him and went to live at the Castle Warden Hotel in St. Augustine, which Baskin owned and managed. However, she continued to write stories and books about Cross Creek, including an autobiography titled Cross Creek and an anecdotal cookbook, Cross Creek Cookery. Ironically, it was this autobiography, which critics consider one of her best, that cost the author four years of constant worry. In 1943, Zelma Cason filed a libel suit against Rawlings, based on the author's description of her in Cross Creek. The suit dragged on until 1947, when Rawlings was charged a nominal sum for damages.
Rawlings had decided that her next novel would have a different setting, upstate New York, where she spent her summers, as well as a more "serious" theme. Though it had been ten years in the making, The Sojourner lacked the vitality of the Florida works. Despite failing health, Rawlings now began research for a biography of her friend and fellow writer Ellen Glasgow. It would never be completed. On December 10, 1953, while Baskin and Rawlings were at their beach cottage, she suffered a cerebral hemorrhage. She died in a St. Augustine hospital on December 14 and was buried in Antioch Cemetery at Island Grove, near Cross Creek.