Biography
(History of the World: The 20th Century)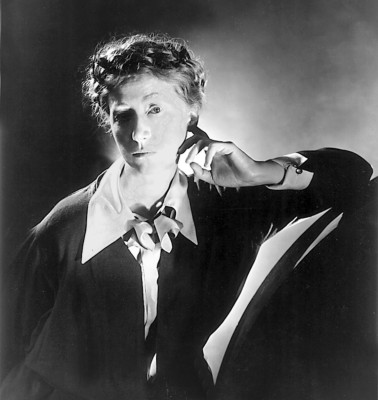 Article abstract: An early leader in Modernist poetry, Moore eventually gained recognition as one of the half-dozen major poets in English of the middle twentieth century.
Early Life
Marianne Craig Moore was born on November 15, 1887, in Kirkwood, Missouri, near St. Louis, where her mother had moved after a breakdown had permanently institutionalized her father. Her mother's brother, pastor of the Presbyterian Church, provided all Marianne knew of a father during her first years. Upon his death in 1894, Marianne, an older brother, and her mother moved to be with friends at Carlisle, Pennsylvania. Here Marianne attended the Metzger Institute, where her mother took a part-time teaching position. Another Presbyterian pastor, George Norcross, involved young Marianne in the life of the mind and the spirit.
Marianne next enrolled at Bryn Mawr College, where she struggled, especially during the first two years, gradually finding a home in the biology laboratory and at the literary magazine, although literature courses daunted her. To contribute to the household income after receiving her degree in 1909, she took a business and secretarial course at Carlisle Commercial College. This gained her a job at the Carlisle Indian School, at the time a center for assimilating American Indians into the common culture. Here she taught classes in English and business skills, maintained the typewriters and stenographic equipment, and coached both boys and girls in field sports for four years. She also sent out poems for publication, placing pieces in the most prestigious and progressive journals of the time: Egoist (London) and Poetry (Chicago).
In 1916, mother and daughter moved first to Chatham, New Jersey, and then two years later to New York, where Marianne lived for the rest of her life. At first supporting herself by tutoring, Moore eventually obtained a part-time position with the New York Public Library, but she quickly decided to devote her life to literature. Without her knowledge, some of her editors and readers at Egoist published her first book, Poems, in 1921. Her subsequent volume Observations (1924), however, proclaimed her entry into the literary lists. Besides containing some of her finest and most reprinted poems, it declared her dedication to the literary life. Editing Dial, another pioneering journal, from 1925 to 1929 confirmed her decision. When that journal ceased publication, Moore resolved to devote the rest of her life solely to writing.
Life's Work
For the next forty years, Marianne Moore supported herself as a freelance reviewer, essayist, and poet, proving it possible to make money by writing: By the time she "retired," she had put enough away so that she could live comfortably on the interest, even in a sickbed. She also gained recognition, though quietly. Throughout her publishing career, every new work earned both acclaim and merit; her list of literary prizes was longer, the weight of her medals heavier, than those of her more celebrated colleagues. She may look at first like a token "female representative" among the writers, but a second look reveals that if there was prejudice against women writers, Moore deserves more credit for having broken through the barriers. Besides, her male peers were the first to acknowledge her eminence.
At least some of her lack of celebrity stems from her own withdrawn habits, her failure to promote herself. Still, within her own limits, she outperformed all of her rivals. She alone succeeded at supporting herself entirely by writing—the only professional among amateurs. Moreover, she is the only world-class poet to have thrown out the first pitch of the season for both the Brooklyn Dodgers and New York Yankees, just as she is the only one to have held a conference on poetry with then-heavyweight boxing champion Muhammad Ali. Late in life, she even gained a semipopular following, especially after being seen about New York conspicuously...
(The entire section is 3,022 words.)