Biography
(History of the World: The 19th Century)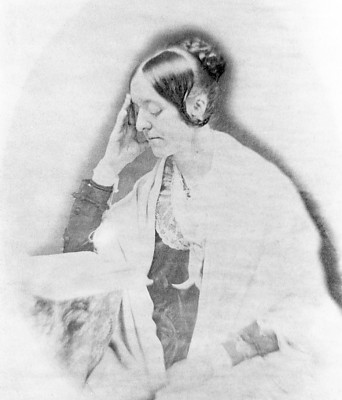 Article abstract: A pioneering feminist far ahead of her time, Margaret Fuller was a perceptive literary and social critic, and America's first woman foreign journalist.
Early Life
Sarah Margaret Fuller was born on May 23, 1810, in Cambridgeport, Massachusetts, the first of the nine children of Timothy Fuller and Margaret Crane Fuller. Her father, a prominent figure in Massachusetts politics, was a graduate of Harvard College and the absolute authority in his household. Keenly disappointed that his first child was a girl, Timothy Fuller nevertheless determined to educate her according to the classical curriculum of the day—an experience usually afforded only to boys.
Even as a small child, Margaret was directed by her father in a rigorous schedule of study. She learned both English and Latin grammar and, before she was ten years old, read Vergil, Ovid, and Horace as well as William Shakespeare. At age fourteen, Margaret went briefly to Miss Prescott's School in Groton but soon returned home to immerse herself again in study. Although Margaret was intellectually developed far beyond her years, the girl's intensity caused trouble in friendships, a pattern that continued throughout her life. Margaret was also uncomfortable with her physical appearance. Therefore, she decided to cultivate her intellect, spending fifteen-hour days reading literature and philosophy in four languages, breaking only for a few hours of music and walking each day.
By the late 1820's, Margaret was forming strong friendships with Harvard students such as James Freeman Clarke and Frederic Henry Hedge, many of whom would later become involved, as she did, with the Transcendentalist movement. She was becoming known in intellectual society in Cambridge and at Harvard as a formidable conversationalist. The same determination that brought her such success, however, also brought criticism. Margaret tended toward sarcasm, offending even close friends in intellectual discussions, and the great demands that she placed upon herself she also placed upon others.
In 1833, Timothy Fuller moved his family to a farm in Groton. Margaret taught her younger siblings and, when her mother's health declined, took over the household. She continued to read, particularly German literature and philosophy, but her life at that time was a strain. Early in 1835, Margaret fell seriously ill, then recovered; in October of that year, her father died.
At this turning point, Margaret's future seemed uncertain and difficult. She had planned a European trip to expand her horizons but had to cancel it in order to support the family. After a three-week visit at the home of Ralph Waldo Emerson (a Transcendentalist and a literary figure) in Concord, she decided to take a teaching position at Bronson Alcott's experimental Temple School in Boston. In 1837, Margaret accepted a teaching position in Hiram Fuller's (no relation) Greene Street School in Providence, Rhode Island.
During her two years in Providence, Fuller also continued her scholarly work—often at the expense of her health—translating Johann P. Eckermann's Conversation with Goethe, for example, and publishing poems and international literature reviews in a liberal, Unitarian journal edited by James Freeman Clarke. In addition, she wrote her first piece of important criticism, which was published a year later in the first issue of the Transcendentalist publication the Dial. Although Margaret was a successful teacher, she missed the intellectual stimulation of Boston, so in 1839 she moved back to Jamaica Plain, a Boston suburb, where she was joined by her mother and younger siblings.
Life's Work
When Margaret Fuller moved back to Boston, her involvement with Transcendentalism (which began when she met Emerson in 1836) increased. As a movement, Transcendentalism focused around a common perspective on religion and philosophy rather than any particular doctrine, and intellectuals met...
(The entire section is 2,411 words.)