Madeleine L'Engle Biography
Madeleine L'Engle was once called stupid by some of her teachers, but she proved them wrong when she went on to author many popular books for young adults. Richly imaginative, her science fiction tales are not just fantasy. She strove to include in her work many concepts that exist in modern science. L'Engle wrote a great deal of nonfiction in addition to her novels. She often blended fiction and memoir, adding many events from her real life to her stories. L'Engle believed that religion, science, and magic were simply different parts of the same reality. Her most well-known works are A Wrinkle in Time, A Wind in the Door, A Swiftly Tilting Planet, and Many Waters.
Facts and Trivia
L'Engle wrote more than forty novels, plays, and collections of poetry.
L'Engle and her husband ran a general store during the early days of her marriage.
In her childhood, L'Engle's family traveled frequently. She spent some time living in a chateau in the French Alps, because her family hoped it would help her father, whose lungs had been injured by mustard gas in WWI (though relatives of the family say that his lungs were not injured, but that his illness was alcoholism).
L'Engle volunteered as a librarian at the Cathedral of St. John the Divine in New York and was later writer-in-residence there.
L'Engle visited Antarctica in 1992 at the age of 74. This was a particularly remarkable feat because she had been injured in a serious car accident just a year earlier.
L'Engle won the prestigious Newbery award in 1963 for A Wrinkle in Time.
Biography
(Masterpieces of American Literature)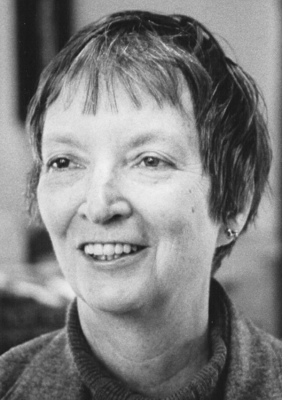 Madeleine L'Engle Camp was born in New York City on November 29, 1918. Her mother, Madeleine Barnett Camp, was a pianist who, although talented, chose not to become a concert pianist and to stay at home with her family. L'Engle's father, Charles Wadsworth Camp, was a foreign correspondent whose lungs were damaged by exposure to poison mustard gas during World War I. L'Engle had a younger brother who died as an infant. Her subsequent childhood was somewhat secluded from other children, as she spent much of her time writing short stories, poems, and journals rather than concentrating on her schoolwork.
As her father's condition worsened, her family decided to move to Europe, where the air would be easier on her father's lungs and he would be less susceptible to diseases such as pneumonia. In 1930, at twelve years of age, L'Engle relocated across the Atlantic Ocean to Switzerland, where her family rented a chateau and she entered a Swiss boarding school.
However, at age fourteen, because of her parents' declining health, L'Engle was sent back to the United States to attend high school in Florida and live with her grandmother. She did not adapt to life in Florida schools and was sent to a girls' boarding school in Charleston, South Carolina, to finish her high school diploma. Once at the boarding school she acted in plays and worked for the school's literary magazine as a writer and editor. As she was finishing her final year at school, her father passed away.
In 1941, L'Engle graduated from Smith College in Northampton, Massachusetts, where she received her B.A. in English and continued her own creative writing. After graduation, instead of returning to the South, where her family lived, she moved to New York City and shared an apartment in Greenwich Village with two aspiring actresses. She attended the New School for Social Research in New York City from 1941 to 1942. Through luck and perseverance she acquired a job working in theater in 1941 and spent the subsequent seven years living on her union pay and writing in her spare time. Her first novel, The Small Rain, was published in 1945.
While working in the theater she met her husband-to-be, actor Hugh Franklin, in a performance of Anton Chekhov's The Cherry Orchard . She later married him in 1946 and became Madeleine L'Engle Franklin; however, she retained the pen name...
(The entire section is 1,816 words.)