Madder Music
(Literary Masterpieces, Volume 18)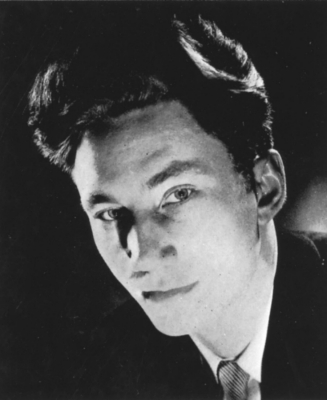 Trapped in a motel room with Pauline, his beautiful and articulate young black woman friend, Bob Swirling discovers that Jumbo, who is busy knocking the door down, is her gigantic brother, to whom "the ultimate showdown will be the showdown between blacks and whites." Pauline adds, "Armageddon," and Swirling, even in his haste and fear, cannot resist the set-up for a pun. "Armageddon the hell out of here," he tells her.
Swirling leaps from a window to safety, though, as the reader already knows, Jumbo is really a friend of Pauline's who has offered to help shock Swirling out of a delusion that he is Groucho Marx. The ploy works, at least briefly, and Swirling muddles on with his by-now badly muddled life. Both the episode and the pun typify the fictions Peter De Vries regularly produces.
Madder Music is absolutely up-to-date; De Vries has never been a writer to take one down "memory lane," though he sometimes uses the past to play off against the troubled present. His characters prove devastatingly verbal and literate, though he manages somehow to make them sound human even while they are showing off their erudition. The selection of words such as "Armageddon" also points toward one of De Vries most persistent preoccupations; he and his characters, for all their seeming sophistication and urbanity, tend to brood a good deal about the absence of religious faith in their lives. The late Flannery O'Connor (with whom De Vries shares certain qualities, though she would have hated admitting it) often wrote about Christians in spite of themselves—people whose efforts to avoid Faith lead them to conversion. De Vries does not allow his characters to reach Faith, but he shows us constantly how their denials seek to cover up lack of satisfaction in the absence of belief.
De Vries has been making readers laugh since the 1950's. His books rarely attract what is known as "serious criticism," but people find out about them quickly. Madder Music does not list among De Vries' publications his first three novels, produced during the 1940's, but the list still numbers eighteen. Most of those are novels, though he has published two collections of shorter pieces.
Associated with Poetry Magazine and later, from 1944 onward, with The New Yorker, De Vries has been close to the center of the nation's literary and cultural life. Apprenticeship at The New Yorker with the likes of Harold Ross and E. B. White and James Thurber conferred certain advantages. Thurber long ago included De Vries among the funniest writers in America, doubtless recognizing that De Vries, like himself, pursues humor with unblinking attention to the darker side of life. Although the term tragicomic seems no more suitable to describe Madder Music than any of the earlier novels, it will have to serve. For De Vries always manages to hint at a persistent malaise of the twentieth century's makeshift life and culture. He maintains a brisk narrative bristling with verbal wit, but the final effect seems always a question: what went wrong with the human race?
Critics continue to laugh along with De Vries—and to complain that he is "too clever" or that he never adequately defines exactly what he is being serious about. Here, De Vries remains in closer touch with the tradition of "serious humor" than his critics. With such humorist-satirists as Pope, Swift, and Byron, he knows that gravity does not always indicate wisdom, nor does levity imply foolishness. He selected a quotation from Sydney Smith as epigraph for his The Tents of Wickedness (1959): "You must not think me necessarily foolish because I am facetious, nor will I consider you necessarily wise because you are grave."
When De Vries writes from the first-person point of view, he is peculiarly susceptible to the charge of excessive cleverness, though his glib narrators always reveal their emotional and personal bankruptcy as they seek to hide behind banter....
(The entire section is 2,979 words.)