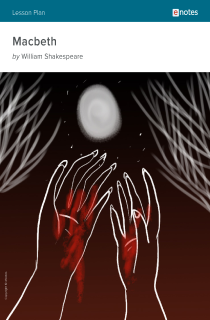 Preview
Macbeth eNotes Lesson Plan
by eNotes
Released February 18, 2020
Language Arts and Literature subjects
91 pages
Purchase a Subscription
Grade Levels
Grade 9
Grade 10
Grade 11
Grade 12
Excerpt
Learning Objectives: 
By the end of this unit, students should be able to
determine what makes Macbeth such a timeless and popular work;
define and describe the play's central conflict;
identify the primary themes and motifs;
define and describe the role of the supernatural in the play;
explain the play's examination of destiny vs. free will;
define the ideal role of a monarch for which the play argues;
discuss the role of gender and explain how it relates to Lady Macbeth;
examine critical passages and interpret their meanings;
identify Shakespeare's use of paradox and explain why it is an effective technique.
Introductory Lecture
Macbeth is the last and shortest of Shakespeare's four great tragedies (the other three being Hamlet, Othello, and King Lear). It is also considered by many scholars to be Shakespeare's darkest play in its examination of evil and how briskly morality is sacrificed in the quest for power. Significantly, it is also one of Shakespeare's most topical plays, as its exploration of the role of the monarchy paid homage to England's new king.
For most of Shakespeare's life and career, Queen Elizabeth I reigned in England. Her successor, King James I, ascended the throne in 1603, and Shakespeare probably wrote Macbeth around 1606. Importantly, King James was the first ruler of both England and Scotland, and Macbeth—set in Scotland—was likely intended as a tribute to King James's heritage. King James was thought to be a descendant of Banquo and his son Fleance, the former whom Macbeth murders so that his own heirs—and not Banquo's—might ascend the throne. Fleance survives the attack meant to kill him along with his father, making King James's birth—and reign—possible.
Apart from King James's lineage, Shakespeare offers other tributes to England's new king and his philosophies. King James believed in witches, and witches open Macbeth and drive the action. King James believed in the healing power of the monarchy; the witches' evil machinations are held in contrast to King Edward's use of magical healing on his subjects. Finally, it was an accepted belief in Shakespeare's time that English monarchs ruled by divine right; they sat on the throne because God had chosen them to rule, and attempting to usurp them was doomed to fail. This is a central argument of Macbeth: Though Macbeth tries to interfere with destiny, his illegitimate reign is as brief as it is bloody. Macbeth is destroyed, Scotland's rightful heir takes his place, and the natural order prevails. Shakespeare used several stories from Holinshed's Chronicles of England, Scotland, and Ireland as background material for Macbeth, and while much of the drama is fictionalized or embellished, the real Macbeth did exist and died in 1057.
Although Macbeth incorporates interesting historical elements, the play endures for entirely different reasons. At its core, Macbeth is an answer to a question asked in Macbeth's day, in Shakespeare's, and in ours: How does evil overtake a human being? At the play's outset, Macbeth is a noble, loyal warrior who shuns the idea of betraying his good king. Time is a critical theme in Macbeth, and within a short period, Macbeth becomes a schemer, a murderer, a king, and a tyrant. While at the play's beginning he has a passionate marriage and feels ambitious about his future, in the end he feels life is only "a tale / Told by an idiot, full of sound and fury, / Signifying nothing." En route to his downfall, he leaves a trail littered with abominable murders. Shakespeare explores how Macbeth unravels so speedily and how plausible such self-destruction becomes when ambition obliterates the line between wrong and right.
Along with its examination of evil and the role of the monarchy, Macbeth explores a rich collection of themes and creates iconic characters. In particular, Lady Macbeth's character, arguably one of the most sought-after roles for actresses, has stood the test of time. As the greatest challenger of Macbeth's conscience, she also denies her own—and famously, her gender—in order to channel all into her pursuit of power. Her decline and destruction are even more rapid than Macbeth's. Lady Macbeth's sleepwalking scene is one of the most famous in Shakespeare's dramas, and "Out, damned spot! Out, I say!" is one of the most famous lines in literature. Her futile attempt while sleeping to wash away the blood she imagines on her hands expresses the depth of her guilt and the impossibility of redemption; her mind shattered, she soon commits suicide.
Guilt, madness, violence, and the supernatural all receive attention from Shakespeare in this short play, while he also explores gender roles, leadership, loyalty, and concepts of time. While accomplishing this lofty agenda in Macbeth, Shakespeare also creates passages of memorable language, from the singsong witches' "Fair is foul, and foul is fair" in act I to Macbeth's beautifully lyrical lament in act V:
Tomorrow, and tomorrow, and tomorrow,
Creeps in this petty pace from day to day,
To the last syllable of recorded time,
And all our yesterdays have lighted fools
The way to dusty death. Out, out, brief candle!
While examining Macbeth's themes, structure, and context, therefore, it is important to savor its language, as well.
Filmmakers continue to make cinematic versions of Macbeth, and theaters continue to stage interpretations of the play, productions using Shakespeare's language or modern adaptations. New performances are not likely to cease any time soon. For as long as humankind bears witness to incomprehensible acts of malice, Macbeth will continue to resonate in its answer as to why.
This lesson plan is based on the RSC Shakespeare edition of Macbeth by William Shakespeare. New York: Modern Library, a division of Random House, Inc. Kindle Edition, 2009.
Text and corresponding footnotes first published in William Shakespeare: The Complete Works, edited by Jonathan Bate and Eric Rasmussen. Modern Library, 2007.
About
Our eNotes Comprehensive Lesson Plans have been written, tested, and approved by active classroom teachers. Each plan takes students through a text section by section, glossing important vocabulary and encouraging active reading. Each is designed to bring students to a greater understanding of the language, plot, characters, and themes of the text. The main components of each plan are the following:
An in-depth introductory lecture
Discussion questions
Vocabulary lists
Section-by-section comprehension questions
A multiple-choice test
Essay questions
Each plan is divided into a teacher and a student edition. The teacher edition provides complete answer keys for all sections, including example answers for the essay questions.