Introduction
(Contemporary Literary Criticism)
Luis Buñuel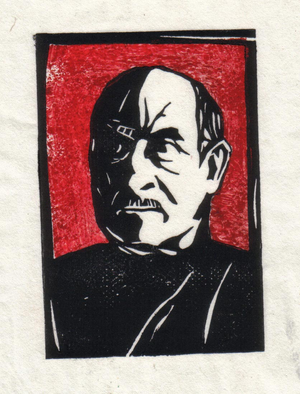 Luis Buñuel 1900–
Spanish director and writer.
Though best known for his surrealistic works, in his films Buñuel encompasses a variety of genres that in turn reflect his compendium of beliefs. Buñuel is a paradox: a religious man who daily thanks God that he is an atheist; a tender man who makes films about sadism; and a realist obsessed with fantasy. Although often obscure and difficult, his work has wide appeal because Buñuel addresses a universal theme: the individual's natural impulses and desires opposed by society and religion.
Buñuel's bourgeois Spanish upbringing is the target of his social criticism and his Jesuit education is partially responsible for his anticlerical attitude. Studies of Freud at the University of Madrid also proved an important influence. Upon graduation Buñuel went to Paris, where he studied at the Academie du Cinéma and assisted Jean Epstein on several films.
In 1928, Buñuel made his first film, collaborating with Salvador Dali. The result, Un Chien andalou, is composed of seemingly irrelevant associations, a trademark of surrealist thought. Since Buñuel felt that sleep was the mind's most natural state, his films often have a dreamlike, fragmented quality. Continuity, according to Buñuel, is an example of man's attempt to civilize the irrational by organizing nature. Un Chien andalou condemns this effort. More important than the film's intent to condemn, however, is its desire to shock. In fact, Buñuel expected such negative reactions that he went to the opening of the film with his pockets filled with stones. To the contrary, the film won many favorable responses. But his next film prompted explosive denunciations. L'Age d'Or, referred to as the only authentic surrealist film ever made, advocated a nonconformist revolution, attacking human reason.
Buñuel broke with surrealism briefly to film a documentary, Land without Bread, which graphically depicted the sufferings of an impoverished area of Spain. The chilling objectivity in this film has been likened to the works of Goya, whom Buñuel has long admired.
During the late 1930s, Buñuel worked for the Museum of Modern Art until Dali accused him of atheism and he was released. After dubbing some films in Hollywood, Buñuel traveled to Mexico to make his first film in twenty years. This period is known as Buñuel's rebirth, marked primarily by a brutally realistic style interspersed with touches of surrealism. Though his first films were purely commercial, their revenue permitted Buñuel to direct his successful Los...
(The entire section is 634 words.)