Biography
(Masterpieces of American Literature)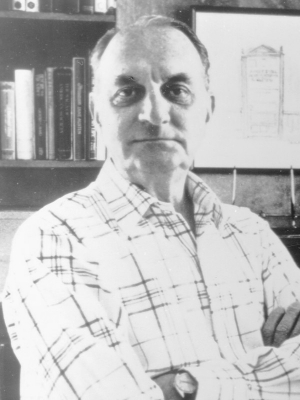 Louis Auchincloss was born on September 27, 1917, at Lawrence, Long Island (later a suburb of New York City), the third among four children and the second of three sons. The Auchincloss family, Scottish in origin, had grown both numerous and prosperous in and around New York City, initially engaging in the wool trade but later branching out into the professions. Louis's father, Howland, a 1908 graduate of Yale University, practiced law on Wall Street. Howland and his wife, the former Priscilla Stanton, saw to it that their children were raised "comfortably" but without ostentation, in relative ignorance of how well-off their family might possibly be.
Howland Auchincloss, although highly successful in a rather arcane field of legal practice, appears to have been what later generations would describe as a "workaholic" and suffered frequent nervous breakdowns in his fifties. Well before that time, young Louis would seriously question the hold of Wall Street on his father's life and time. Priscilla Stanton Auchincloss was a strong, perceptive wife and mother despite numbing, often inexplicable inhibitions and "taboos," possibly deriving from guilt feelings over the death of a younger brother when Priscilla was no older than six. It is from his mother that Auchincloss claimed to have derived his keen powers of observation and recall.
Beginning his education at the private Boyce School in Manhattan, Auchincloss enjoyed the companionship of such classmates as the future actors Mel Ferrer and Efrem Zimbalist, Jr., before Boyce closed its doors permanently just before the Wall Street crash of 1929. By then, Louis was old enough to follow in the footsteps of his father and elder brother by enrolling at the prestigious Groton School in Massachusetts, a training ground for diplomats and statesmen. Feeling ostracized by his classmates in the aftermath of a schoolboy prank early in his Groton career, young Louis worked hard to distinguish himself academically, earning the high grades he sought but, as he later recalled, almost missing the real point of education. Auchincloss credits Malcolm Strachan, hired to teach at Groton toward the end of his own stay there, with reorienting his reading habits toward enjoyment and away from simple achievement.
Enrolling at Yale in 1935, again following the pattern established by his father, Auchincloss read widely for pleasure both inside and outside class, in time attempting a novel of his own based upon his social observations. When the manuscript was rejected by Scribner's, not without some words of encouragement for the aspiring author, Auchincloss saw fit to read the rejection as an omen of sorts and to follow his father into the practice of law without wasting any time. Skipping his senior year at Yale, he actively sought the best law school that would accept him without benefit of a bachelor's degree, enrolling at the University of Virginia as he turned twenty-one in the fall of 1938.
Avoiding the "temptations" of literature, either as reader or as writer, with all the resolve of a recovering addict, Auchincloss studied hard at Virginia, as he had done at Groton, soon discovering in legal prose and logic some of the same delights that he had found in literature. Determined to succeed both as student and as lawyer, he steered clear of the thriving "country-club" social scene but remained quite as observant of his surroundings as he had been during his "literary" days. In any case, his devotion to his studies soon paid off in high grades and honors; upon graduation in June, 1941, he was hired by the Wall Street law firm of Sullivan and Cromwell, where he had worked as a student clerk during the summer of 1940.
Auchincloss's seemingly impulsive decision to skip his senior year at Yale soon turned out to have been a wise one indeed: He was able to complete his studies and actually practice law for several months before the...
(The entire section is 1,543 words.)