Introduction
(Masterpieces of World Literature, Critical Edition)
Lord Byron's impact on nineteenth century European and American culture, both as a personal cultural figure and as a poet and satirist, cannot be exaggerated. Stylistically and formally, his work is more diverse than that of his fellow Romantics. Byron's curious and perhaps confusing blend of idealism and cynicism accounts in part for critical reluctance to assign to him the same label of Romantic as easily as to Wordsworth or Shelley. Yet in his idealistic, steadfast determination to pursue truth, to strip away the surface to expose cant, hypocrisy, and oppression, Byron was at once a reflection of his culture and an iconoclast.
Biography
(Masterpieces of World Literature, Critical Edition)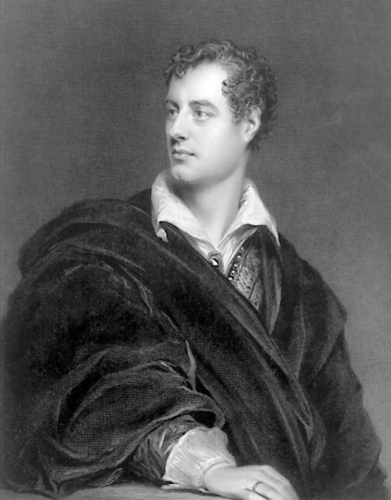 George Gordon, later to become the sixth Lord Byron, was born January 22, 1788, in London, England, the son of Captain John "Mad Jack" Byron and Catherine Gordon of Gight, Scotland. Catherine was heiress to a small fortune, which her husband soon squandered. After the couple fled from creditors to France, Catherine left her philandering husband and moved to London. George Gordon was born with a clubbed right foot, an ailment that caused him much humiliation throughout his life but for which he attempted to compensate through athletic endeavors. The Byrons soon moved to Aberdeen, where Catherine could better afford to live on her modest allowance. Captain Byron died in France in 1791 at the age of thirty-six. His son would die at the same age.
After years of attending grammar schools in Aberdeen, George Gordon became the sixth Lord Byron upon the death of his granduncle in 1798. He moved to Newstead Abbey, Nottinghamshire, the Byron family seat, and the Byrons' lifestyle changed considerably. From 1801 to 1805, young Byron attended Harrow School, spending his vacations with his mother, who was alternately abusive and tender. In 1804, he began a correspondence with his half sister, Augusta Leigh, from whom he had been living separately since his infancy, thus forming a close and complicated relationship that outlasted many others and that became the source of considerable scandal, in part accounting for the failure of his marriage and in part prompting Byron's self-exile to Europe. Entering Trinity College, Cambridge, in 1805, Byron formed other lasting alliances, most notably those of his dear friends John Cam Hobhouse and John Edleston. It was during this time that Byron began to form his ideals of the sanctity of political and personal liberty. In 1807, he published a volume of poems, Hours of Idleness, which was attacked in the Edinburgh Review An undistinguished student, Byron left Cambridge in 1808 with a master's degree.
In 1809, Byron took his seat in the House of Lords, often supporting liberal, unpopular causes. In this year, he also discovered and exploited his unrivaled knack for satire, publishing English Bards and Scotch Reviewers, in which he lashed out at the Edinburgh Review and criticized contemporaries Robert Southey, William Wordsworth, and others of the "Lake School" of poetry. Later in 1809, Byron left with his friend Hobhouse on a tour, not the customary Grand Tour of Western Europe, but a tour of Portugal, Spain, Albania, and Greece. This trip inspired him to begin Childe Harold's Pilgrimage (1812-1818; 1819), and he finished the first canto in Athens. In 1810, Byron finished the second canto of Childe Harold's Pilgrimage, traveling further in Turkey and Greece. Inspired by the Ovidian story of Hero and Leander, he swam the Hellespont on May 3, 1810, an accomplishment of which he boasted in a poem "Written After Swimming from Sestos to Abydos." He returned to England in 1811, shortly before his mother's death. Despite her unstable and often cruel treatment of him, the son mourned her loss, which was closely followed by the loss of two school friends.
In 1812, Childe Harold's Pilgrimage was published. "I awoke one morning and found myself famous," Byron wrote. Byron's fame, his extraordinary personal beauty,...
(The entire section is 1,749 words.)