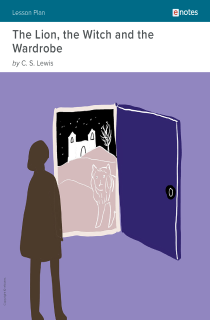 The Lion, the Witch and the Wardrobe eNotes Lesson Plan
*This download is only available with the eNotes Teacher's Subscription
Purchase a Subscription






50 pages
Language Arts,
Literature
For:
Grade 8
Grade 9
Grade 10
Grade 11
Grade 12
Excerpt From This Document
Lesson Objectives: 
By the end of this unit, students should be able to
explain the main characteristics each of the children represents and how they came to embody those traits;
chart Edmund's character development from petulant schoolboy, to traitor, to hero;
identify the novel's main arguments about faith, loyalty, sacrifice, and power;
understand how Lewis uses imagery and vivid sensory descriptions to create a fanciful universe and to enhance the novel's themes;
identify the main allegories in the text.
Introductory Lecture:
The first book in C. S. Lewis's The Chronicles of Narnia series, The Lion, the Witch and the Wardrobe endures more than half a century after its publication. The novel has been adapted for television multiple times, as well as for the stage and film. It has been reflected in popular culture, from politics to Saturday Night Live. On one level, The Lion, the Witch and the Wardrobe is an adventure tale; its four protagonists—siblings Lucy, Edmund, Peter, and Susan—step inside a magical wardrobe and discover a child's ideal fantasy world, complete with talking animals, beautiful landscapes, virtuous souls, terrible villains, a heroic lion, and four thrones waiting for the children to occupy them in fulfillment of a proph- ecy. If the book held no deeper meaning, it very well might have endured simply because it is a won- derful adventure story. However, The Lion, the Witch and the Wardrobe is also a heroic journey through which courage, loyalty, and sacrifice bring about the transformation of the children and of Narnia itself. Read in yet another way, Lewis's story reimagines the crucifixion of Christ and his resurrection, reaffirm- ing the transformative power of love and faith.
At the time he wrote the book, C. S. Lewis was already a notable British author and Christian apologetic, striving to present a rational basis for Christianity and defend it against attacks. He had left Christianity as an adolescent but returned to his faith in his early thirties and, years later, wrote his first book for children about Narnia. Though Lewis said that as an artist he let the story unfold creatively, he also saw the virtue in teaching children through storytelling.1 It is important to understand the role of the Christian faith in Lewis's life story, as it informs the spiritual themes in the book.
Obsessed with power and domination, an evil White Witch rules in Narnia, but a prophecy states that her rule will end when four humans (the siblings) arrive in Narnia. When the youngest boy, Edmund, betrays his siblings to the White Witch, he commits a traitorous act. Selfishness and a desire for power have poisoned his soul, and by the rules of Deep Magic, his life belongs to the White Witch. The great Lion Aslan—who represents truth, justice, and love—offers himself in Edmund's place, and the ani- mal's death is a dark and violent affair that conjures the crucifixion of Christ. Through the lion's sacri- fice, Edmund's soul is wiped clean, just as Christian belief holds that Jesus died for the sins of mankind. Edmund becomes a just and compassionate king of Narnia.
Though The Lion, the Witch and the Wardrobe was published in 1950, Lewis had conceived the novel a decade prior, when many children living in London were evacuated to keep them safe from relentless bombings by the German air force during the London Blitz. Those are the circumstances when Peter, Susan, Lucy, and Edmund are transported to a large house in the country where they find little to do but play hide-and-seek and explore the house's crevices—ultimately leading them to the wardrobe. Viewed in this context, Narnia and its adventures offer an escape from a dark world where children have little control. Though Narnia itself includes elements of darkness and danger, the children are empowered participants in its drama, and it is in Narnia that the children grow up—physically, emotionally, and perhaps most importantly to Lewis, spiritually.
1 C. S. Lewis, "Sometimes Fairy Stories May Say Best What's To Be Said," in Of Other Worlds: Essays and Stories, ed. Walter Hooper. (London: Bles, 1966; New York: Mariner Books, 2002) 36-37. Citation refers to the Mariner edition. 
About this Document
Our eNotes Comprehensive Lesson Plans have been written, tested, and approved by active classroom teachers. Each plan takes students through a text section by section, glossing important vocabulary and encouraging active reading. Each is designed to bring students to a greater understanding of the language, plot, characters, and themes of the text. The main components of each plan are the following:
An in-depth introductory lecture
Discussion questions
Vocabulary lists
Section-by-section comprehension questions
A multiple-choice test
Essay questions
Each plan is divided into a teacher and a student edition. The teacher edition provides complete answer keys for all sections, including example answers for the essay questions.