Other Literary Forms
(Literary Essentials: Short Fiction Masterpieces)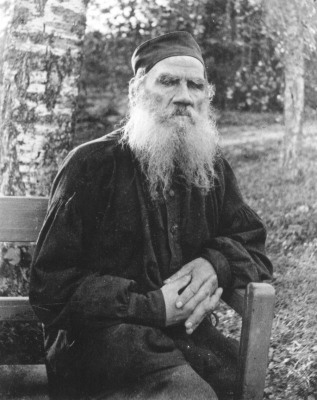 Leo Tolstoy is most famous as the author of two superb novels, Voyna i mir (1865-1869; War and Peace, 1886) and Anna Karenina (1875-1878; English translation, 1886). He wrote one other full-length novel, Voskreseniye (1899; Resurrection, 1899), and a number of novellas, such as Destvo (1852; Childhood, 1862), Otrochestvo (1854; Boyhood, 1886), Yunost' (1857; Youth, 1886), Kazaki (1863; The Cossacks, 1872), and Khadzi-Murat (1911; Hadji Murad, 1911). His fiction tends to overshadow his achievement as a dramatist; his plays include Vlast tmy (1887; The Power of Darkness, 1888) and Plody prosveshcheniya (1889; The Fruits of Enlightenment, 1891).
Achievements
(Literary Essentials: Short Fiction Masterpieces)
Leo Tolstoy is one of the undisputed titans of fiction, recognized by friend and foe alike as a great artist and man. He is Homeric in the epic sweep of War and Peace and Anna Karenina; in his stress on the primacy of human beings' senses and physical acts; in the clarity, freshness, and gusto with which he presents his world; in his celebration of nature's processes, from brute matter to the stars; in his union of an omniscient perspective with a detached vision. Unlike Homer, however, he often shows war as wanton carnage resulting from the vainglory and stupidity of a nation's leaders.
While most critical evaluations of Tolstoy's writings are highly laudatory, he has been reproached by some interpreters for his disparagement of science, technology, and formal education, his hostility to aesthetics and the life of the mind, and most of all for his insistence, in his later works, on dictating programs of moral and religious belief to his readers. As a writer, his greatest achievement is to convey an insight into the living moment that renders with unequaled verisimilitude the course of human passions and the pattern of ordinary actions, enabling him to present a comprehensive, coherent, and usually convincing sense of life. His influence, while not as pervasive as that of his rival Fyodor Dostoevski, is evident in the works of Maxim Gorky, D. H. Lawrence, Ernest Hemingway, Giuseppe Tomasi di Lampedusa, Ignazio Silone, Isaac Babel, Mikhail Sholokhov, Aleksandr Solzhenitsyn, and Boris Pasternak when he composed his novel, Doktor Zhivago (1957; Doctor Zhivago, 1958).
Other literary forms
(Survey of Novels and Novellas)
The works of Leo Tolstoy (TAWL-stoy), like those of many Russian writers, cannot be divided neatly into long fiction and short fiction. Tolstoy wrote only three full-length novels: War and Peace, Anna Karenina, and Resurrection. Family Happiness, The Cossacks, The Kreutzer Sonata, Hadji Murad, and the trilogy comprising Childhood, Boyhood, and Youth could be termed novellas or short novels; the distinction between the two is often not well defined, but most readers would classify The Cossacks—the longest of this group—as a short novel. More problematic are the works that exceed the length of the traditional short story (as defined by English-language criticism) but not by a large margin. One such work is The Death of Ivan Ilyich, which may be regarded either as a novella (although it is about half the length of Hadji Murad, for example) or as a long short story. In turn, such well-known stories as "Khozyain i rabotnik" ("Master and Man"), "Dyavol" ("The Devil"), and "Otets Sergy" ("Father Sergius") are only slightly shorter than The Death of Ivan Ilyich.
The point of the foregoing is not to split terminological hairs but rather to emphasize the fact that the term "story," often loosely applied to Tolstoy's fiction, can be misleading. Tolstoy wrote relatively few "short stories" in the classic sense of the term; among those, some of the best known are "Nabeg" ("The Raid"), "Mnogo li cheloveku zemli nuzhno?" ("How Much Land Does a Man Require?"), and the stories collected in Sevastopolskiye rasskazy (1855-1856; Sebastopol , 1887). Finally, Tolstoy published a number of very short, moralistic tales, largely inspired by the religious reorientation that he experienced...
(The entire section is 2,248 words.)