At a Glance
Leo Tolstoy is considered one of the greatest novelists of all time. He told sweeping stories of Russian history in War and Peace and focused on the confinements of society in Anna Karenina. Because of these novels, Tolstoy is praised for his realistic portrayal of life, a style that forged a new direction in storytelling. A compassionate egalitarian throughout his life, Tolstoy told stories through the perspectives of the people around him rather than writing through his own privileged experience. He even told one story, "Kholstormer," through the thoughts of a horse. Toward the end of his life, he wrote The Kingdom of God Is Within You, which presented his ideas of pacifism. "If the world could write its own story," one critic once said, "it would write like Tolstoy."
Facts and Trivia
Tolstoy lost his mother when he was only two years old and his father seven years later.
Tolstoy was sent to law school but soon returned home. His teachers found him completely unwilling to learn.
Tolstoy loved to gamble and as a young man often found himself in debt due to his gambling habit.
Tolstoy rarely hung out with the writers of his time. He found them too liberal and too fascinated with Western customs. 
Martin Luther King Jr. and Mahatma Gandhi were inspired by Tolstoy's philosophy of nonviolence.
Biography
(History of the World: The 19th Century)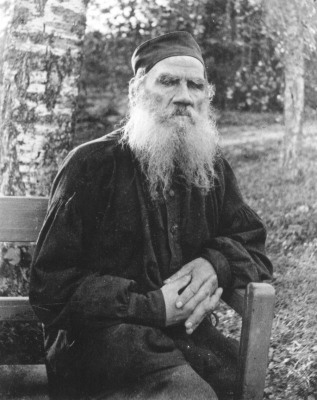 Article abstract: During the first half of his long and active life, Tolstoy brought universal fame to Russian literature through his fiction. In later years, he achieved worldwide renown as a pacifist, social activist, and moralist. He is equally significant as a novelist and moral philosopher.
Early Life
Leo Tolstoy traces his aristocratic origins back to the founding of the Russian state in the ninth century. His ancestors, at times faithful servants, at times opponents of the Crown, amassed fame as well as respectable wealth over the centuries. Thus Tolstoy, though orphaned at age eight, grew up in comfort under the care of relatives at the various Tolstoy residences. He subsequently shaped a vague memory of his mother, who died when he was two, into an idealized portrait of the perfect woman and featured such a paragon in many of his major works. His first published narrative, Detstvo (1852; Childhood, 1862), re-creates a boy's tender relationship with and painful loss of his mother.
A flamboyant lifestyle, filled with carousing and gambling, prevented Tolstoy from completing university study, but he revealed an early talent for writing and meticulously recorded daily details, from purest thoughts to debauched acts, in his diaries. He continued keeping such journals until old age, providing future literary historians with rich source material for every stage of his life. His elder siblings and relations, dismayed at the young count's irresolution and wantonness, sent him in 1851 to the Caucasus, where Russia was engaged in sporadic military operations with hostile natives.
(The entire section is 3,497 words.)