Other Literary Forms
(Critical Edition of Dramatic Literature)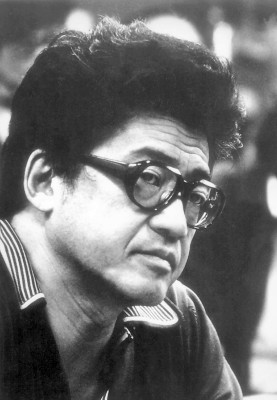 A man of myriad talents, Kb Abe first established himself in the literary world as a novelist, but his reputation rests almost equally on his dramatic works. His first published work, in 1947, was a collection of poetry entitled Mumei shish (collection of nameless poems). His best-known novel is Suna no onna (1962; The Woman in the Dunes, 1964), and his Daiyon kanpyki (1958-1959, serial; 1959, book; Inter Ice Age 4, 1970) is science fiction. Abe also wrote short stories, some of which are collected in Four Stories by Kb Abe (1973), political essays, screenplays, film scripts, and film criticism.
Achievements
(Critical Edition of Dramatic Literature)
Kb Abe received the Second Postwar Literary Prize (1951) for his short story "Akai mayu" (1950; "The Red Cocoon," 1966). Later in the same year, he was given the twenty-fifth Akutagawa Prize for the title story in his collection Kabe (1951; walls), a surrealistic work. His 1967 play Friends was awarded the Tanizaki Jun'ichir Prize. For most of the forty years preceding his death in 1993, Abe was a central figure among avant-garde artists in Japan. In 1975, Columbia University conferred on him the honorary degree Doctor of Humane Letters. He was frequently mentioned as a likely Nobel Prize candidate, but his death in 1993 prevented realization of that honor.
Other literary forms
(Survey of Novels and Novellas)
Kb Abe (ahb-eh) gained international renown not only for his novels but also for his short stories, plays, essays, radio dramas, and film scenarios. As the title of his collection of essays Mken-no kokoro-ni keisanki-no te-o (1957; with the hand of an adding machine in the heart of a vicious dog) suggests, virtually all of his writings reflect—in however oblique a way—moral indignation at the state of humankind. Abe tried to expose the alienation and despair that so easily possess lonely and isolated people, particularly in modern urban society. He demonstrated a willingness to experiment, and his stage pyrotechnics, as well as his halting and fragmented mode of narration, were deliberately calculated to expose the irony and paradox of human existenc e.
Achievements
(Survey of Novels and Novellas)
By means of his short stories, which were first published in journals and then collected in books during the early 1950's, Kb Abe carved a special niche in the postwar Japanese literary scene. His story "Akai mayu" ("Red Cocoon"), first published in December, 1950, was awarded the Postwar Literature Prize. His first collection of short stories, Chin'nysha (1952; intruders), took its title from one of his best-received tales, a satiric allegory on counterfeit democracy in postwar Japan. Later, he transformed the title story, "Intruders," into the play Tomodachi (pr., pb. 1967; Friends, 1969). Two of Abe's early stories, "Kabe" ("The Wall") and "S. Karuma-shi-no hanzai" ("S. Karuma's Crime"), were awarded the coveted Akutagawa Prize for portraying a Kafkaesque world that stresses the qualities of irrationality, surrealism, and frustration in contemporary life. His radio drama B ni natta otoko (pr., pb. 1969; The Man Who Turned into a Stick, 1975—a later version for theater) received a Cultural Festival Prize. Another of his radio dramas earned a second-place prize in the Public Broadcasting Cultural Festival in 1958. His masterpiece novel, The Woman in the Dunes, won the Yomiuri Literature Prize in 1960 on the basis of an earlier, serialized version. As the doyen of living Japanese writers who enjoyed an international reputation, Abe transcended the cultural code of his native country. His works deal with issues that relate to individuals and societies everywhere. The basic themes that underlie his best-known novels are those of alienation and identity, two poles that regulate human existence in social groups.
Bibliography
(Critical Edition of Dramatic Literature)
Cassegård, Carl. Shock and Naturalization in Contemporary Japanese Literature . Folkestone, England: Global Oriental, 2007. Uses the concepts of "naturalization" and "naturalized modernity" to analyze how modernity has been experienced and depicted in post-World War II...
(The entire section is 1,389 words.)