Knut Hamsun
(History of the World: The 20th Century)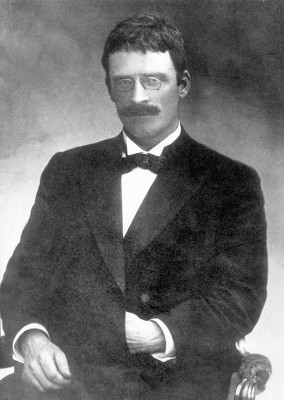 Article abstract: The author of more than twenty novels, six plays, and numerous essays, poems, and short stories, Hamsun is widely considered to be Norway's greatest novelist. He was the recipient of the Nobel Prize in Literature in 1920.
Early Life
Knut Hamsun was born Knut Pedersen in the agricultural area of Lom, Gubrandsdal, Norway, on August 4, 1859. When he was four years old, his impoverished family moved to the farm of a wealthier uncle in Nordland, one hundred miles north of the Arctic Circle. Life was easier for the family there, but debts continued to mount. At nine, Knut was sent to live with another uncle, Hans Olsen, working in Olsen's post office to pay off a family debt. For five years, Knut worked for his uncle, who starved and beat him. Once Knut had finished his schooling, however, he was able to escape, beginning at the age of fourteen a life of wandering and searching for work.
For the next five years, Hamsun roamed northern Norway, working as a store clerk, an itinerant merchant, a shoemaker's apprentice, a sheriff's deputy, and a schoolteacher. Throughout these years he sharpened his writing skills, and he published his first novel, Den gaadefulde (the mysterious one), in 1877. In 1878, he published a poem, "Et gjensyn" ("A Reunion"), and another novel, Bjoerger. The two novels were transparently autobiographical accounts of the loneliness and frustrations of Hamsun's own life. None of these minor works has been translated into English.
In 1879, Hamsun traveled south again, working as a member of a road crew. The pay was poor, and he nearly starved, but he continued his education and his literary pursuits, reading everything he could find in local libraries and offering himself as a lecturer on literary topics. He emigrated to the United States in 1882, expecting to find literary success and prosperity there. Instead, he found a life of hardship and illness, and he returned to Norway in 1884.
Upon his return, he published an article on Mark Twain, using the pseudonym Knut Pedersen Hamsund ("Hamsund" being the name of his family's farm). The printer accidentally omitted the "d," and the writer was thereafter known as Knut Hamsun. Over the next few years, Hamsun delivered more lectures and traveled again to the United States, this time finding employment as a streetcar conductor in Chicago and as a journalist in Minneapolis. Yet literary fame continued to elude him there, and upon settling in Copenhagen in 1888 he began a series of anti-American lectures and writings.
Life's Work
With his first major novel, Sult (1980; Hunger, 1920), Knut Hamsun established himself as an original talent. Until his appearance on the literary stage, most Norwegian literature of the time tended toward themes of "social problems," focusing on the evils of society at large, and involving complicated plots. Hunger focuses instead on the inner workings of one man.
Like Hamsun's earlier novels, Hunger is largely autobiographical. Based on Hamsun's miserable years on the road crew, it is the story of a starving young writer who works diligently at his art, sustained only by his yearning for literary success. Hunger brought Hamsun the fame and respect he had long sought. In this novel, Hamsun unveiled techniques that he would develop throughout his career: the interior monologue, flashbacks and other jumps in time, and the interruption of narrative by episodes of fantasy. Hamsun's work with interior monologue was perhaps the most influential, leading the way for James Joyce's development of stream-of-consciousness. Indeed, many of Hamsun's techniques, which seem rather commonplace to the modern reader, were quite new to readers in the nineteenth century.
Hunger also ushered in a period during which Hamsun focused on gifted and isolated men—men like Hamsun himself—who struggle to nurture their talents but who are unable to form lasting family or romantic attachments or...
(The entire section is 1,994 words.)