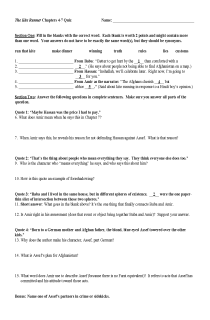 The Kite Runner, Chapters 4-7 Quiz
by McKinstry Rose
Release Date: February 12, 2019
Age Levels: Grade 11
Download PDF
Excerpt
Answer the following questions in complete sentences. Make sure you answer all parts of the question.
Quote 1: "Maybe Hassan was the price I had to pay."
What does Amir mean when he says this in Chapter 7?
When Amir says this, he reveals his reason for not defending Hassan against Assef. What is that reason?
Quote 2: "That's the thing about people who mean everything they say. They think everyone else does too."
Who is the character who "means everything" he says, and who says this about him?
How is this quote an example of foreshadowing?
Quote 3: "Baba and I lived in the same house, but in different spheres of existence. __?__ were the one paperthin slice of intersection between those two spheres."
Short answer: What goes in the blank above? It's the one thing that finally connects Baba and Amir.
Is Amir right in his assessment (does that event or object bring together Baba and Amir)? Support your answer.
Quote 4: "Born to a German mother and Afghan father, the blond, blue-eyed Assef towered over the other kids."
Why does the author make his character, Assef, part German?
What is Assef's plan for Afghanistan?
What word does Amir use to describe Assef (because there is no Farsi equivalent)? It refers to acts that Assef has committed and his attitude toward those acts.
Bonus: Name one of Assef's partners in crime or sidekicks.
About
College Prep level quiz for Chapters 4-7 of The Kite Runner