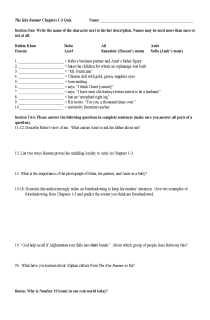 Kite Runner, Chapters 1-3 Quiz
by McKinstry Rose
Release Date: February 12, 2019
Age Levels: Grade 11
Download PDF
Excerpt
Section One: Write the name of the character next to his/her description. Names may be used more than once or not at all.
Rahim Khan
Baba
Ali
Amir
Hassan
Assef
Sanuabar (Hassan's mom)
Sofia (Amir's mom)
Baba's business partner and Amir's father figure
Hates the children for whom an orphanage was built
Chinese doll with gold, green, sapphire eyes
says, "I think I have [cancer]."
says, "I have seen old donkeys better suited to be a husband."
has an "atrophied right leg"
His motto: "For you, a thousand times over."
university literature teacher
Section Two: Please answer the following questions in complete sentences (make sure you answer all parts of a question).
Describe Baba's view of sin. What causes Amir to ask his father about sin?
List two ways Hassan proves his unfailing loyalty to Amir in Chapters 1-3.
What is the importance of the photograph of Baba, his partner, and Amir as a baby?
Hosseini (the author)strongly relies on foreshadowing to keep his readers' attention. Give two examples of foreshadowing from Chapters 1-3 and predict the events you think are foreshadowed.
"God help us all if Afghanistan ever falls into their hands." About which group of people does Baba say this?
What have you learned about Afghan culture from The Kite Runner so far?
Bonus: Why is Number 19 ironic in our real world today?
About
College Prep level quiz for Chapters 1-3 in The Kite Runner.