Biography
(Masterpieces of American Literature)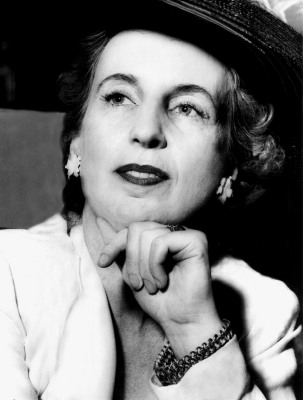 Kay Boyle was born in St. Paul, Minnesota, on February 19, 1902, the daughter of Howard Peterson Boyle and Katherine Evans Boyle. Her father was a rather dim but well-intentioned figure in her life, while her paternal grandfather, Jesse Payton Boyle, was described by Kay as brilliant, reactionary, domineering, and destructive. Boyle's mother was active in the radical labor movement and other political causes, while her grandfather consistently criticized and opposed both mother and daughter. In Robert McAlmon's memoir Being Geniuses Together—a collaboration with Boyle once she revised and expanded it in 1968—she credited her mother with being the dominant influence in her life. It was her mother who instilled in her daughter social, political, and artistic values that permeated Boyle's work.
Boyle's formal schooling was sketchy: a few terms at two private girls' schools, a short time at the Cincinnati Conservatory of Music, and two years at the Ohio Mechanics Institute in Cincinnati, Ohio, where the family had moved in 1916. Travel took the place of conventional education in Boyle's life; while still a girl, she accompanied her family to Europe as well as to several cities in America. Indeed, travel became a constant factor in her life as she moved from one place to another; at various times, she lived in France, England, Austria, Germany, and Spain.
Before going off on her own, Boyle worked in her father's Cincinnati office for a short while, then moved to New York, where she found a job working on Broom, one of several avant-garde literary publications with which she was to become associated in America and Europe. The 1920's and 1930's were the era of the "little magazines," which promoted literary experimentation and innovation.
In June, 1922, Boyle married Robert Brault, a Frenchman, and the couple went to France in June, 1923, to spend the summer with Brault's family in St. Malo. Afterward, they moved to Paris, Le Havre, and the village of Harfleur, where, in 1924, Boyle began her second novel (the manuscript of the first was lost in the mail). As was to be the case with almost all of her novels and much of her short fiction, Boyle drew heavily upon events and persons in her own life for her material. Plagued by the Nightingale, a novel published in 1931, grew out of the period that she and her husband spent with his family in St. Malo.
Their marriage was shaky, and after meeting Ernest Walsh in 1925, Boyle became deeply involved with him and with his new magazine, This Quarter. Her early short fiction and poetry appeared in this review. Walsh died in October, 1926, and in March, 1927, Boyle gave birth to his daughter, Sharon. Briefly, she rejoined her husband, but the marriage came to an end in 1928.
Boyle was one of the many expatriate writers living and working in Paris in the period between the two world wars. Men and women who came of age during this time would later be known as the "lost generation." Boyle's work began to appear in a new magazine, transition, in which also appeared the work of such writers as James Joyce, Gertrude Stein, Hart Crane, and Archibald MacLeish. Her poems, stories, reviews, a translation, and the preliminary drafts of a novel, Year Before Last (1932), appeared in this review. Her first book, a collection of short stories, was published in 1929, followed by Wedding Day, and Other Stories in 1930.
In the following ten years, Boyle's published work included six novels, three short-story collections, three translations, two ghostwritten volumes, a book of three short novels, a book for children, a collection of poems, and an anthology. During the same period, she won two O. Henry Awards for best short story of the year, and three of her stories appeared in the annual O. Henry anthologies. Forty of her stories were named in Edward O'Brien's annual collection of Best American Short Stories.
In 1931, Boyle married Laurence Vail, and...
(The entire section is 2,717 words.)