Discussion Topics
(Masterpieces of American Literature)
What facts of Kay Boyle's early career contributed to her development as a novelist focused on political themes?
Boyle seems to have learned more from travel experiences than from early domestic routine and formal schooling. To what extent can the same be said of Merrill in the short story "Anschluss"?
Literary style is preeminently the effective use of language elements such as diction, phrasing, metaphors, and details generally. Examine carefully the style of a passage (a page or so) in Boyle's writing that you think deserves praise for its style and cite particular instances.
Examine carefully a conversation in a Boyle short story that both reveals the speakers' characters and illustrates a larger theme.
In what respects was Boyle herself, like Athena in the story of that name, an "underground woman"?
Other Literary Forms
(Literary Essentials: Short Fiction Masterpieces)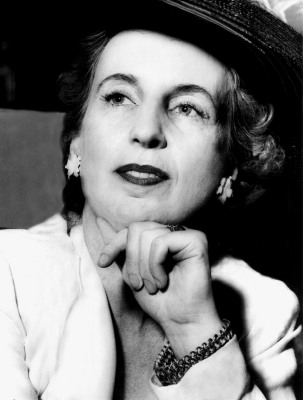 In addition to her short stories, Kay Boyle published several novels, volumes of poetry, children's books, essay collections, and a book of memoirs. Breaking the Silence: Why a Mother Tells Her Son About the Nazi Era (1962) is her personal account, written for adolescents, of Europe during the Nazi regime. Boyle also ghostwrote, translated, and edited many other books. Hundreds of her stories, poems, and articles have appeared in periodicals ranging from the "little magazines" published in Paris in the 1920's to The Saturday Evening Post and The New Yorker, for which she was a correspondent from 1946 to 1953.
Achievements
(Literary Essentials: Short Fiction Masterpieces)
Both prolific and versatile, Kay Boyle has been respected during her long career for her exquisite technical style and her ardent political activism. She was very much a part of the expatriate group of writers living in Paris in the 1920's, and her work appeared in the avant-garde magazines alongside that of James Joyce, Gertrude Stein, Ernest Hemingway, and others. Her work is in many ways typical of the period, stylistically terse, carefully crafted, displaying keen psychological insight through the use of stream of consciousness and complex interior monologues. That her work was highly regarded is evidenced by her many awards: two John Simon Guggenheim Memorial Foundation Fellowships; O. Henry Awards in both 1935 and 1961; an honorary doctorate from Columbia College, Chicago; and membership in the National Institute of Arts and Letters. She taught at San Francisco State University and Eastern Washington University.
Other literary forms
(Survey of Novels and Novellas)
Although she published many novels, Kay Boyle was recognized principally for her shorter works. First published in the small magazines of the 1920's, her early stories were collected in Wedding Day, and Other Stories (1930) and The First Lover, and Other Stories (1933). Active as an editor and critic on small magazines such as Contempo and on progressive political journals, Boyle also translated the works of such European writers as Joseph Delteil, Raymond Radiguet, and Marie-Louise Soupault. Two volumes of her short stories, The Smoking Mountain: Stories of Postwar Germany (1951) and Nothing Ever Breaks Except the Heart (1966), reflect wartime and postwar Europe. Collected in Fifty Stories (1980), Boyle's short fiction appeared in American periodicals for decades.
Boyle's poetry, also first published in small magazines, was collected in A Glad Day (1938) and Collected Poems (1962). Her volume of poetry titled American Citizen Naturalized in Leadville, Colorado (1944), based on the experience of an Austrian refugee in the U.S. military, is dedicated to writer Carson McCullers, "whose husband is also overseas," and Testament for My Students, and Other Poems (1970) concerns "that desperate year, 1968." This Is Not a Letter, and Other Poems (1985) appeared fifteen years later.
As a European correspondent after World War II, Boyle wrote nonfiction prose of both journalistic and literary distinction, including her reportage of the war crimes trial of Heinrich Babb for The New Yorker and her essays on civil rights and the military establishment. Her edited volume The Autobiography...
(The entire section is 1,516 words.)