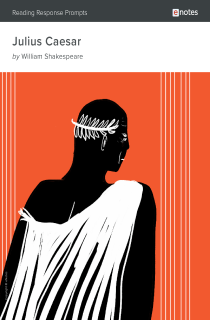 Julius Caesar eNotes Reading Response Prompts
*This download is only available with the eNotes Teacher's Subscription
Purchase a Subscription





24 pages
Language Arts,
Literature
For:
Grade 9
Grade 10
Grade 11
Grade 12
Excerpt From This Document
As the play opens, people have gathered in the streets to celebrate Caesar's returning to Rome in triumph. He has defeated Pompey, whom the crowds had cheered in the past. Do you think people always cheer for the winner? Are they ever loyal to a loser? What evidence do you have that confirms your opinion about how people react to winners and losers?
The Roman tribunes, Flavius and Marullus, try to drive the crowds from the streets of Rome. Describe a time when you or someone else was told to "move along." What was the situation? What was the result?
About this Document
These eNotes Reading Response Prompts are designed to encourage your students to read more effectively and with more pleasure by giving them interesting subjects to write about after they have read. Many of the prompts will take them directly into the text, while others will give them an opportunity to express their thoughts and feelings and to reflect on their own experiences.
A second purpose of the eNotes Reading Response Prompts is to facilitate instruction in ways that work for you in the classroom. The organization of the prompts makes them easy to use, and the content and construction of the prompts are designed to develop students' knowledge and academic skills.